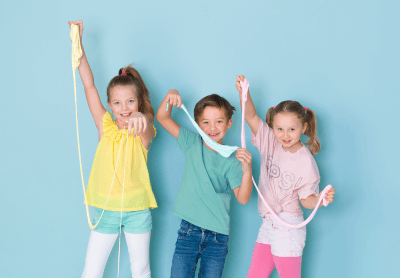 If you're searching for that perfect slime recipe this post is just what you've been looking for. We have written about some of our favorite homemade slime recipes that are sure to offer loads of entertainment and fun for children.
On top of the fun these DIY recipes provide for a multi-faceted educational experience. They teach kids in a science experiment type of way how the mixing of ingredients can make some really cool and weird things happen. In the end are able to learn that you can start with various ingredients and when mixed together in the right way you can come out with something totally different!
On top of this they can begin to learn how to following steps and instructions, measure ingredients furthering their understand of numbers and even learn cause and effect along with much!
So have a look below and find the best slime recipes for your little one whether it be for a small birthday party with friends or good old fashion bonding time with your kids or grandchildren!
Our Top 10 Favorite Easy Homemade Slime Recipes
The options in our list below include easy recipes for rainbow slime, glow-in-the-dark slime, fluffy slime, glitter slime, slime worms and much more! When considering the options below remember you can always add your own flair to these by throwing in some extra sparkles, glitter or shapes.
Also remember, slime making can be purely about fun or you can make it highly educational, it's up to you to do as you please.
Galaxy Slime Recipe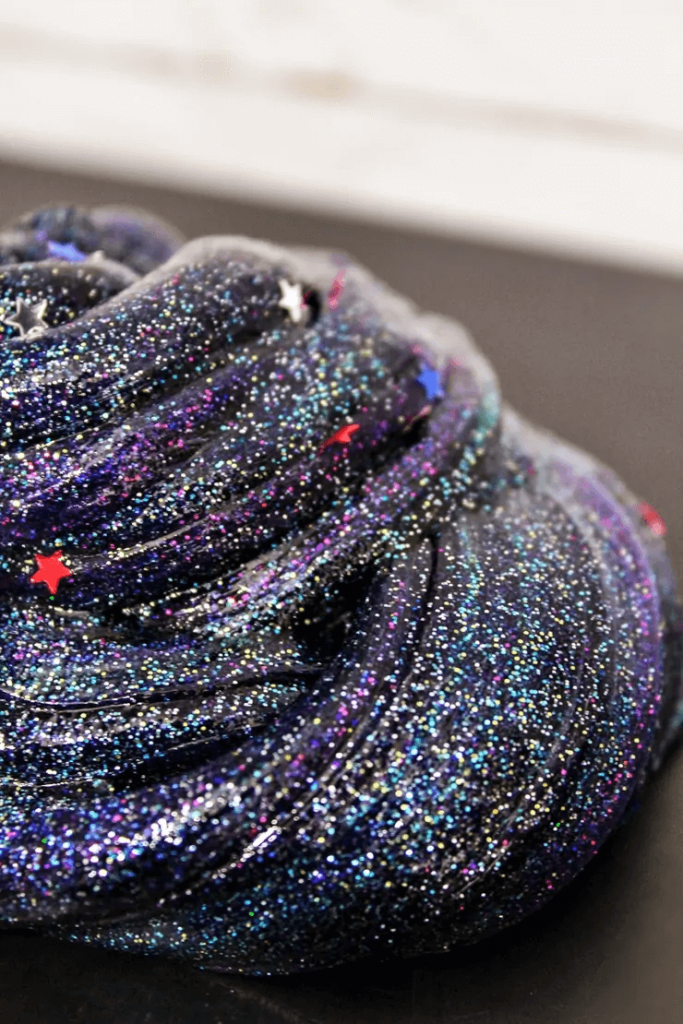 This sparkly slime recipe is brought to you by Jaclyn at Crayons and Cravings who describes this slime as follows:
"If you have a little space lover at home they will love this DIY galaxy slime. The dark colors and glitter combine for a homemade slime that is truly out of this world!"
This galaxy slime recipe is one of the more compliated ones we have included but it is well worth it in the end. Once complete you end up with beautiful shiny and sparkly slime kids love!
Not to mention the act of having to make 3 different slimes and combine them offers for an extremely educational science experiment!
You will need 9 ingredients to make this slime including black glitter glue, clear glue, water, baking soda, contact solution, purple and teal food coloring, star confetti, glitter colors of your choice (teal, purple, pink and gold suggested).
Product Currently Out Of Stock!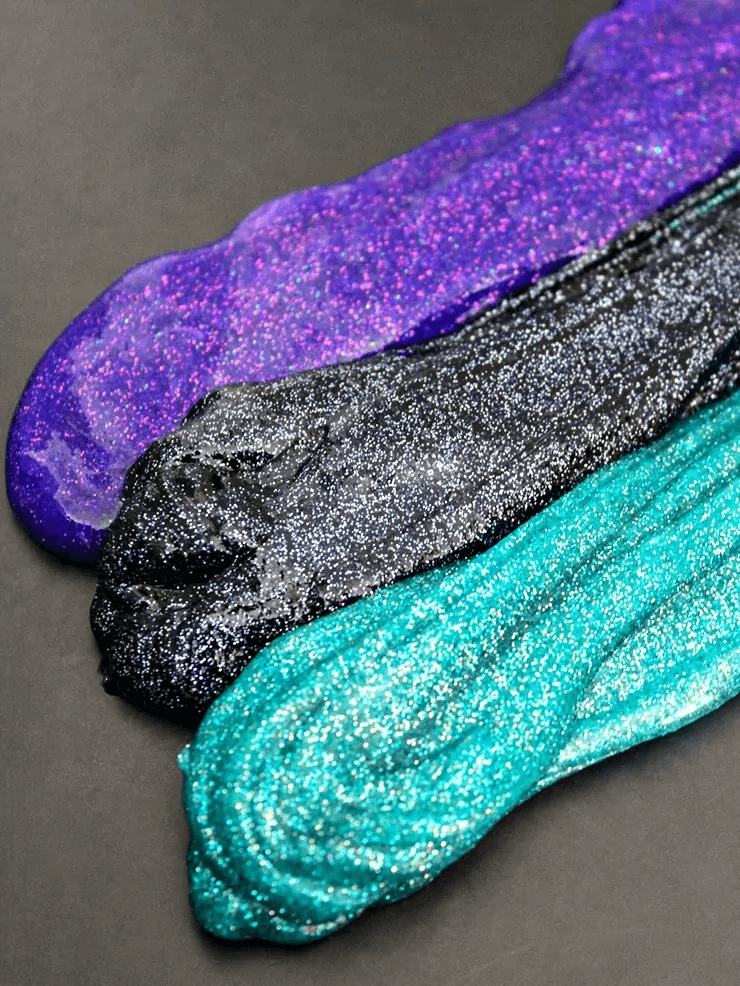 For the full recipe and instructions visit https://crayonsandcravings.com/galaxy-slime/

Glow-In-The Dark Slime Recipe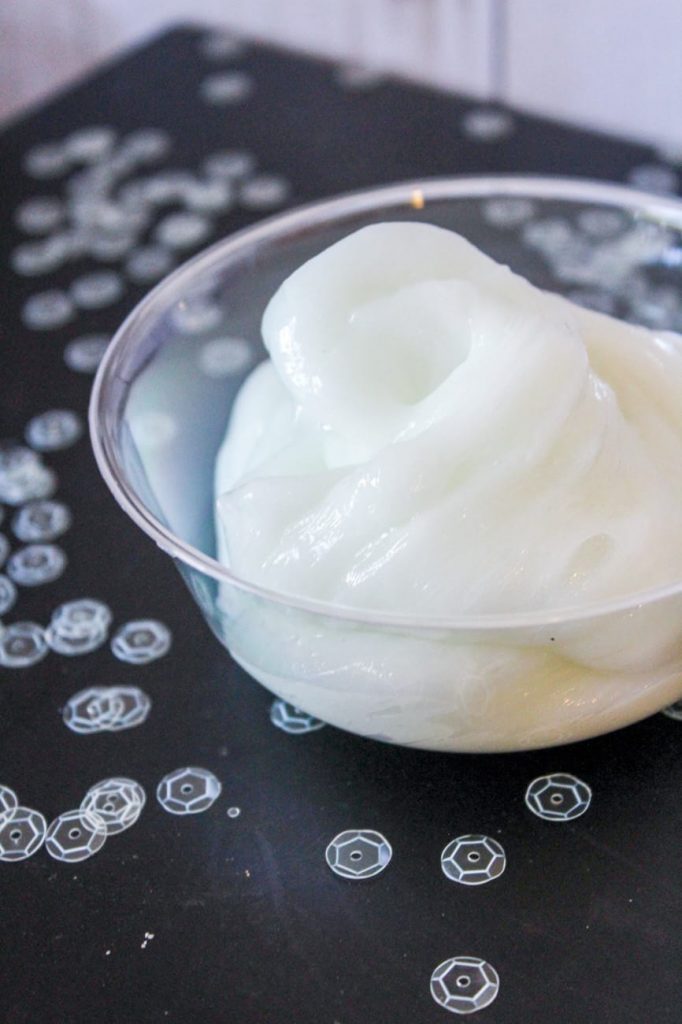 This cool slime recipe is brought to you by MaryBeth at Baby Savers who describes this slime as follows:
"This Glow in the the dark slime is a simple recipe that has a big wow factor! You Make it with ingredients that are surprisingly easy to find!"
This is a simple and easy slime recipe for at-home crafting yet, in the end you have a really cool slime that glows in the dark which offers added fun.
You will need just 5 ingredients to make this slime including the following:
Clear glue
Glow-in-the-dark paint
Hot water
Small amount borax
Room temperature water
Confetti or sequins (optional)
It is important to note that this recipe includes borax meaning adult supervision is required. Since borax is a skin irritant you should avoid letting children have direct contact with the undiluted borax.
We also suggest you read up on the facts about slime that contains borax and decide if it is something you are comfortable with.
Once mixed with the other ingredients it is relatively safe so long as children don't try to eat it, which is why we only suggest this slime for kids who are a little bit older.
If you do decide to make this slime adult supervisor is strongly encouraged even after the fact when your child is simply playing with it!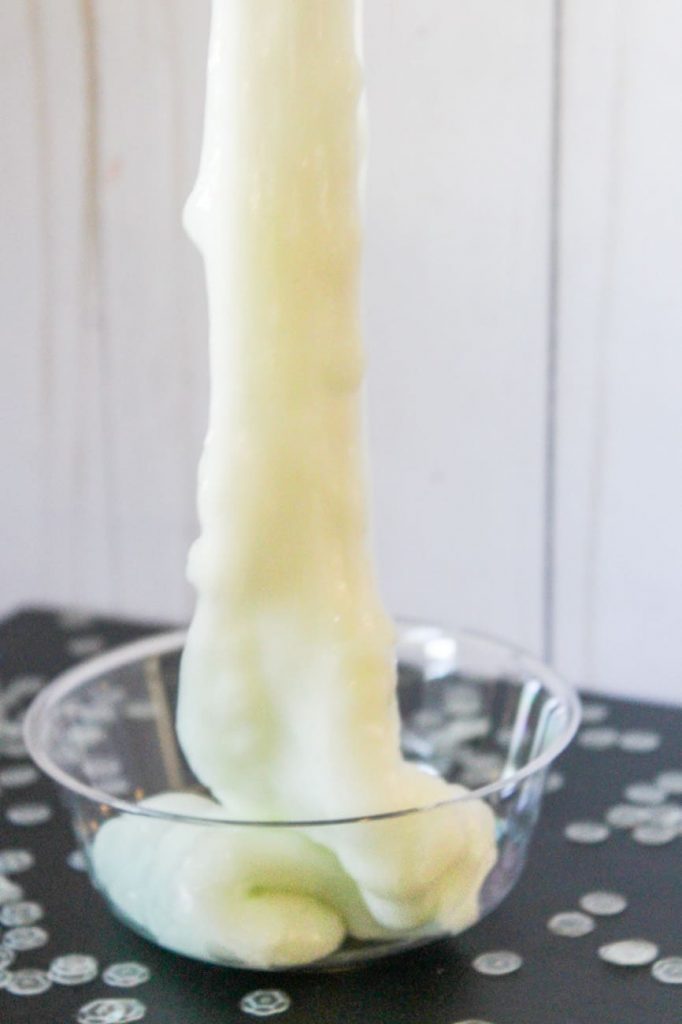 For the full recipe visit https://www.babysavers.com/glow-in-the-dark-slime/
Slime Worms Recipe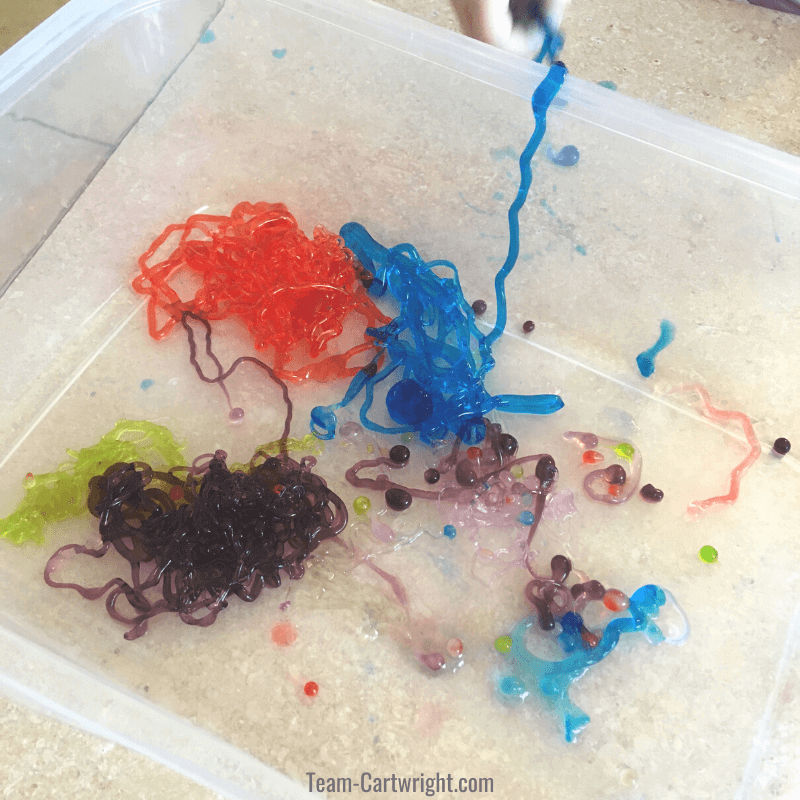 This fun and creative slime worms recipe is brought to you by Kimberly at Team Cartwright who describes this slime as follows:
"Make unique slime your kids haven't tried yet – slime worms! These are super fun and Kids Will learn the science of how they come together."
This slime worm recipe offers one of the more fun slime making experiences for kids. In making these worms you simply create 2 super simple solutions. Once you're done and ready to create your worms you simply mix one with the other slowly using a dropper and watch slime worms magically form.
Doing this allows kids slowly create the wormy slime in a magical process!
This fun and interactive part of the slime making process is super fun for kids!
The worm design is really cool and unique and kids seems to really like it!
You will need just 4 ingredients + supplies to make this slime including:
Good grade Calcium chloride
Food grade Sodium alginate
Food coloring in colors of your choice
Distilled water
Measuring cups
Spoons
A fork or tongs
Plastic dropper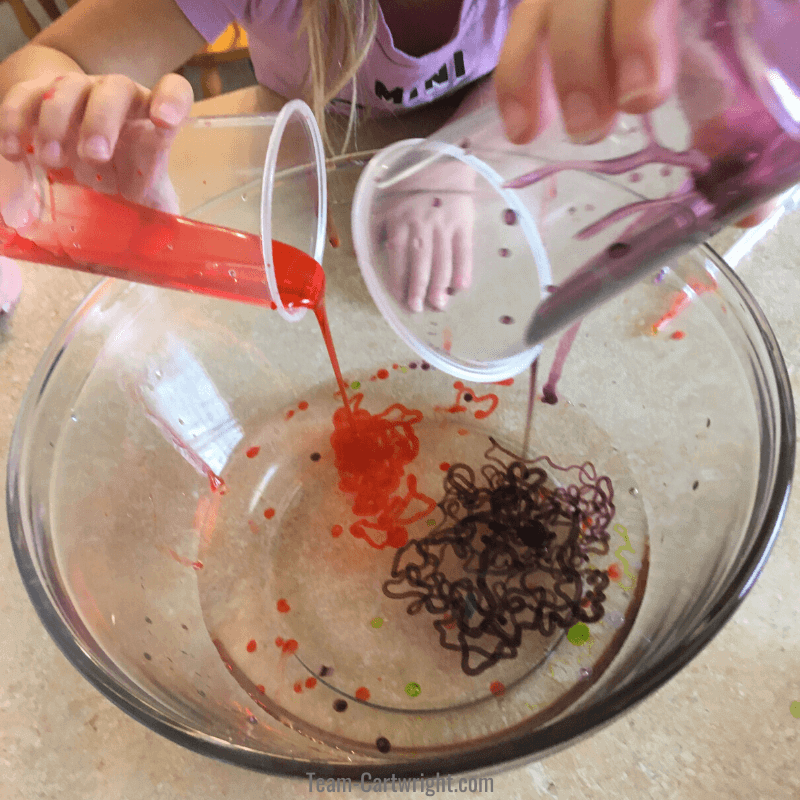 For the full recipe visit https://team-cartwright.com/slime-worms/
Mermaid Slime Recipe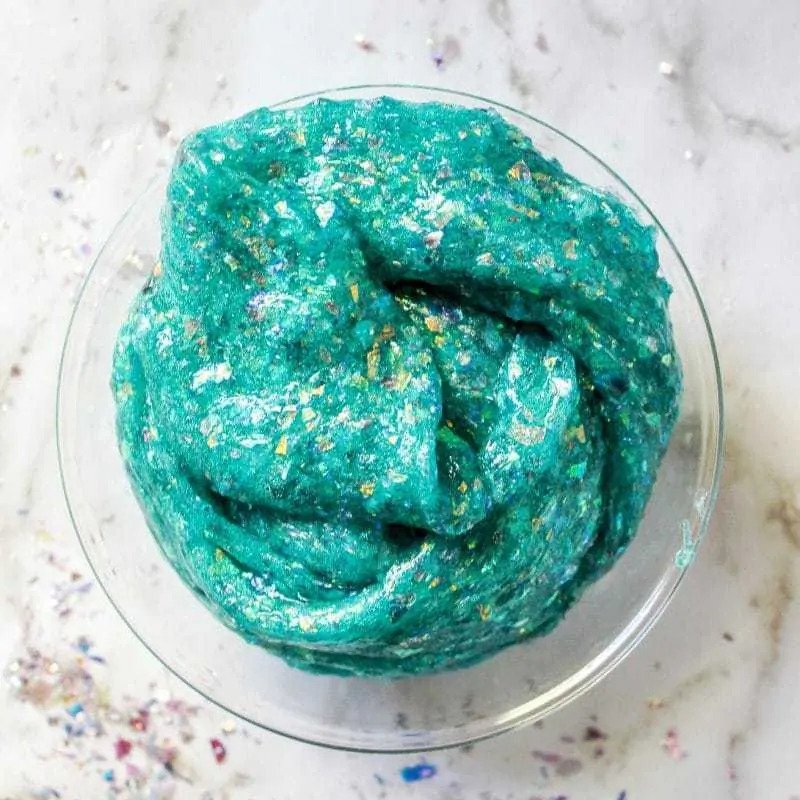 This beautiful sparkly teal mermaid slime is another recipe that comes to us from the Crayons and Cravings blog and is described as:
"This borax-free mermaid slime is a quick and easy kids activity, perfect for your little mermaid-lovers. The sparkle and the color make for one fun and beautiful slime Experience."
This recipe combines the fun of mermaids and slime into one funactivity, something kids absolutely love!
To make this slime you will only need a bowl, measuring cups, an airtight container and just 6 incredients including the following:
Clear glue
Water
Baking soda
Saline solution
Skin safe food coloring (A mixture of teal, kiwi green & neon blue was used for this slime)
Glitter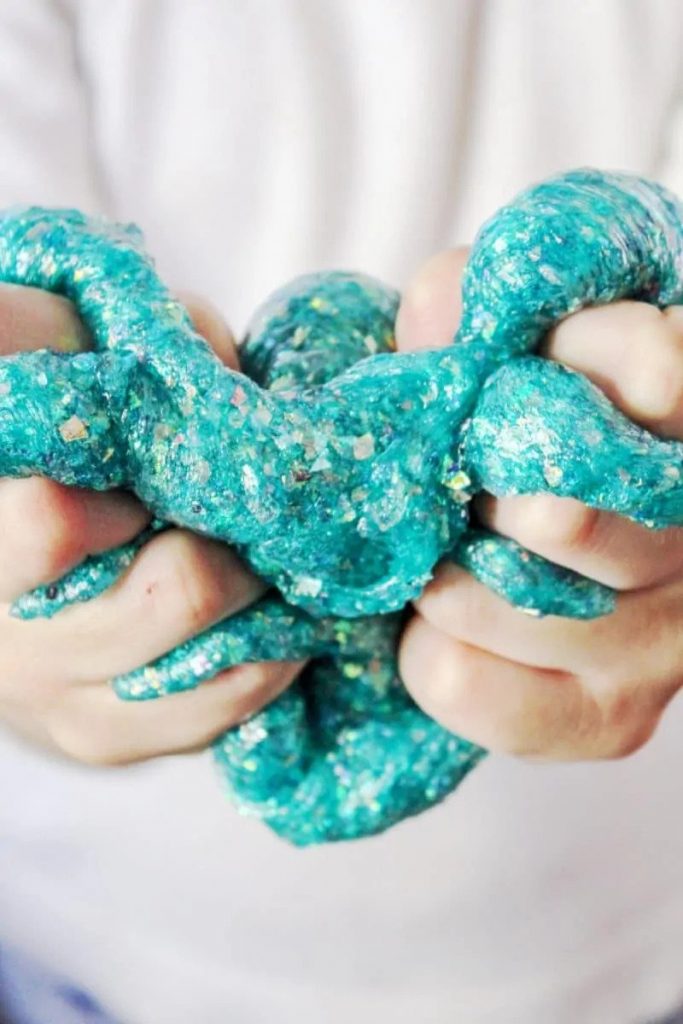 Making this slime is super easy as you start with the water, add the glue, then baking soda, then food coloring and then the glitter. Once done adding these mix well and then add the saline and watch the magic happen as the slime begins to form almost immediately!
As you can see this slime is absolutely beautiful, super easy and super safe, making it perfect for young children!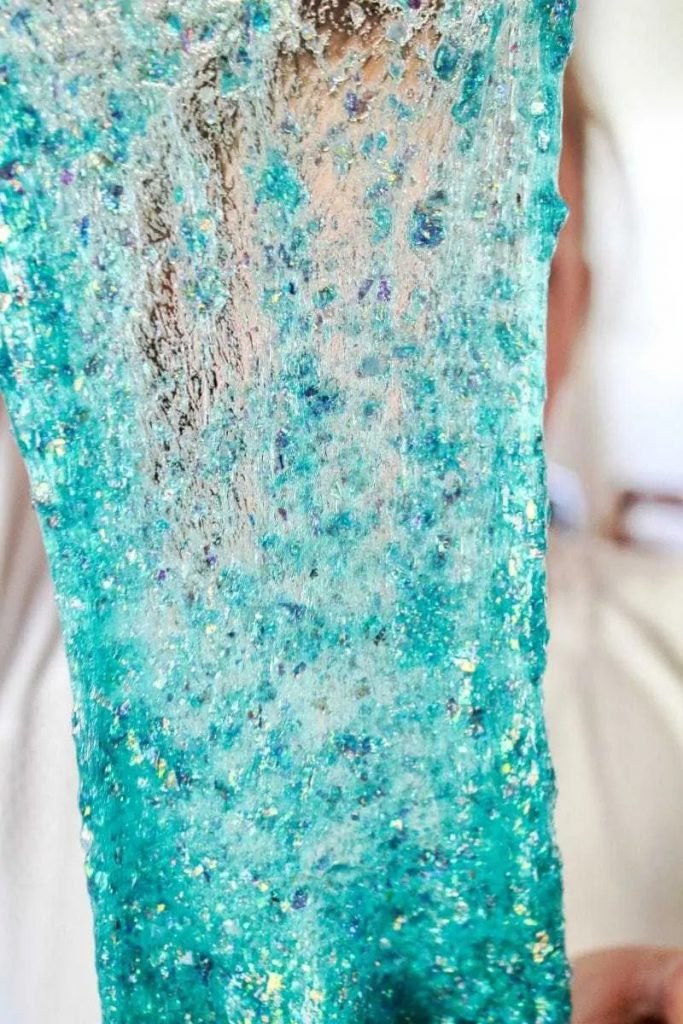 For the full recipe visit https://crayonsandcravings.com/mermaid-slime/
Sparkly Clear Glitter Slime Recipe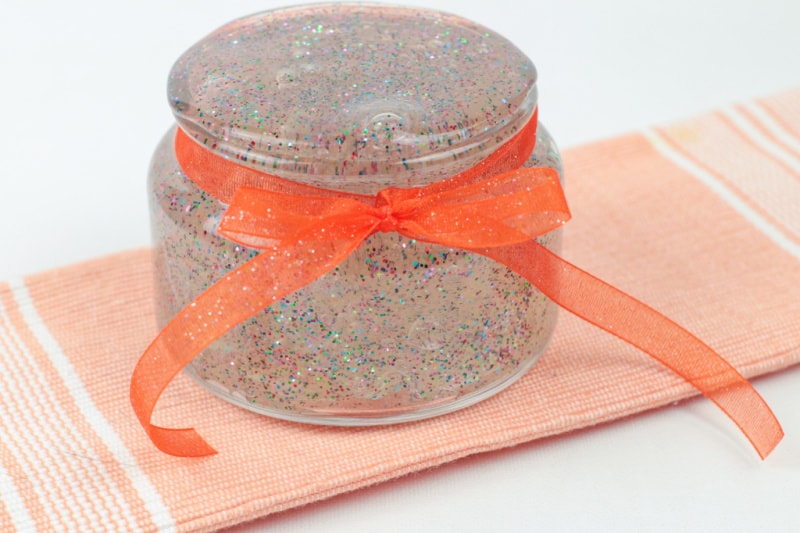 This sparkly clear glitter slime comes to us from Ellen at the In Our Spare Time Blog and is described by her in the the following way:
"Looking for a quick and easy slime recipe? Try this clear glitter slime today! It is fun not only to make but to play with after!"
This is another recipe that is super fun and easy for you to make with your kids.
It is a simple recipe wiht only a few ingredient and it be adapted if you want to make a colored slime rather than clear slime.
To create this slime you need the following basic supplies:
Baking soda
Water
Clear Glue
Contact lens solution
Glitter
Food coloring (optional if you want colored slime)
If you really want super clear slime the trick is to add the glue very slowly!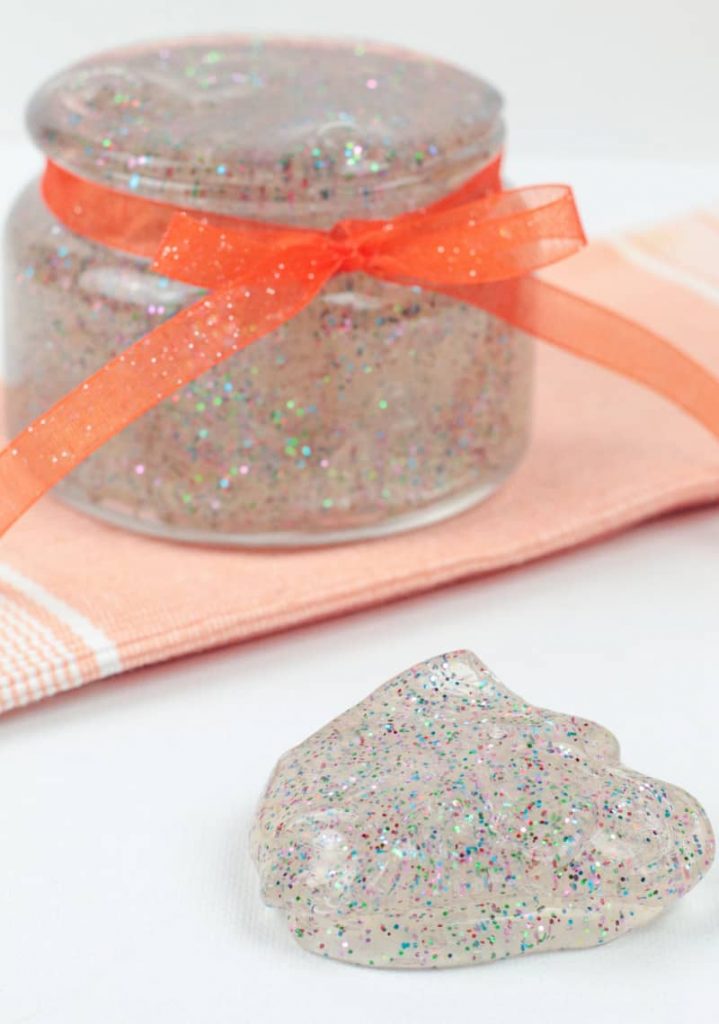 For the full recipe visit https://in-our-spare-time.com/clear-glitter-slime/
Golden Winnie the Pooh Honey Slime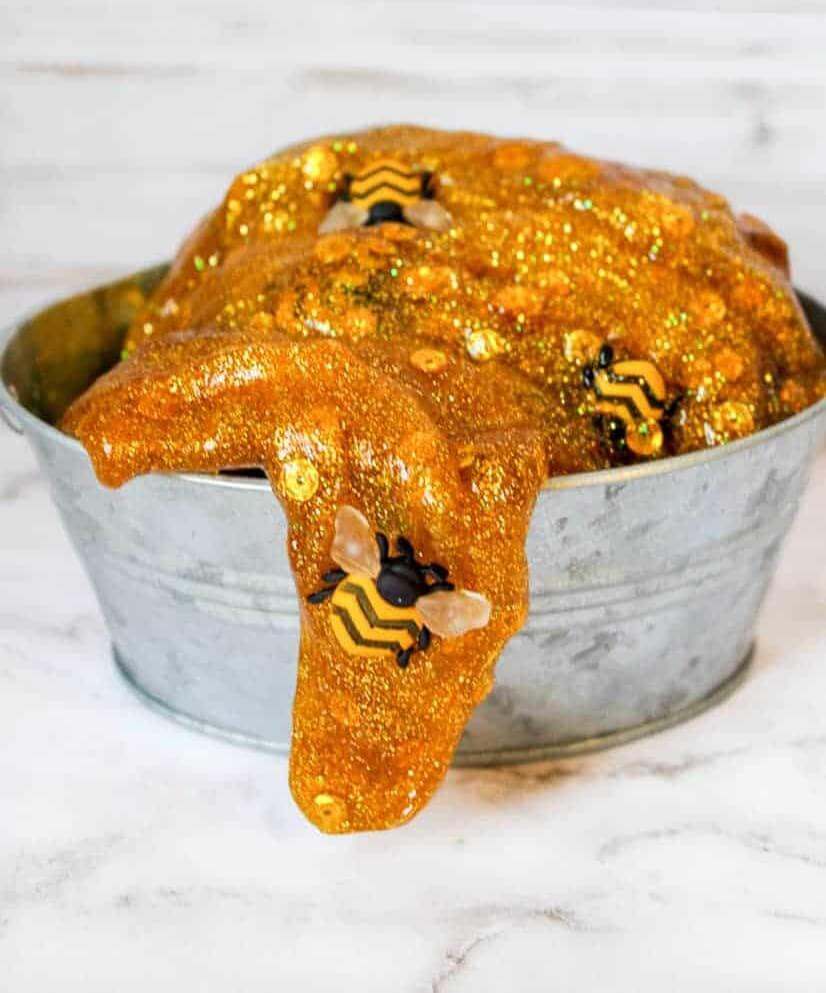 Another unique slime recipe brought to us by Marybeth at Baby Savers, we love the golden honey color of this Winnie the Pooh honey slime!
Marybeth has this to say about this recipe:
"If you're looking for a unique slime you can try this glitter slime that looks like honey! This is such a fun slime recipe with optional glitter, embellishments and colors."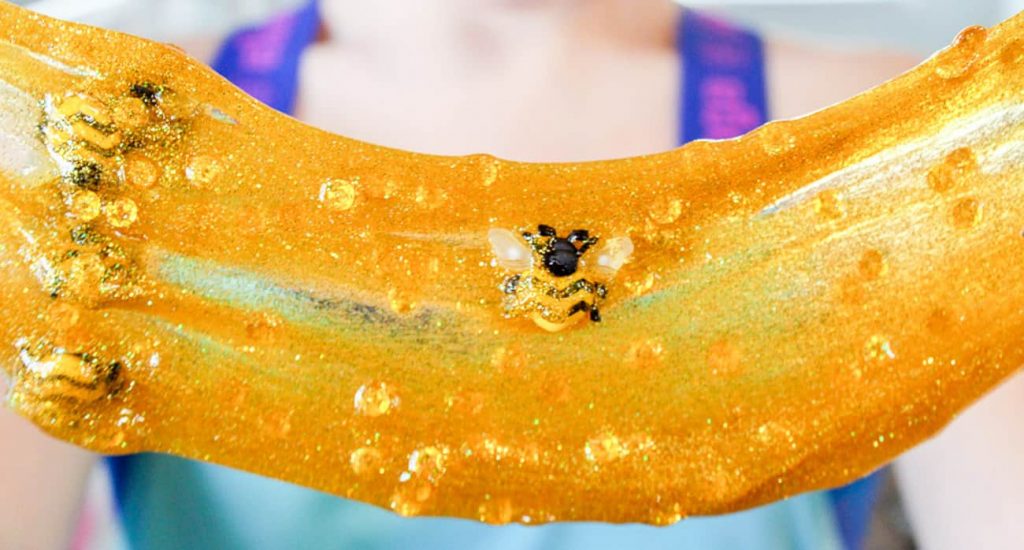 We really love the golden honey theme of this slime along with the optional extras (sequins, glitter and tiny bee) that make it stand out from other recipes!
It is a simple yet unique slime that includes just a handful necessary ingredients but allows you to make it more involved (and fun!) with the extras!
Ingredients:
Hot water
Room temperature water
Borax powder
Clear Elmers Glue
Food coloring (This recipe uses golden and brown)
Containers for mixing
Airtight containers for storage
Optional supplies: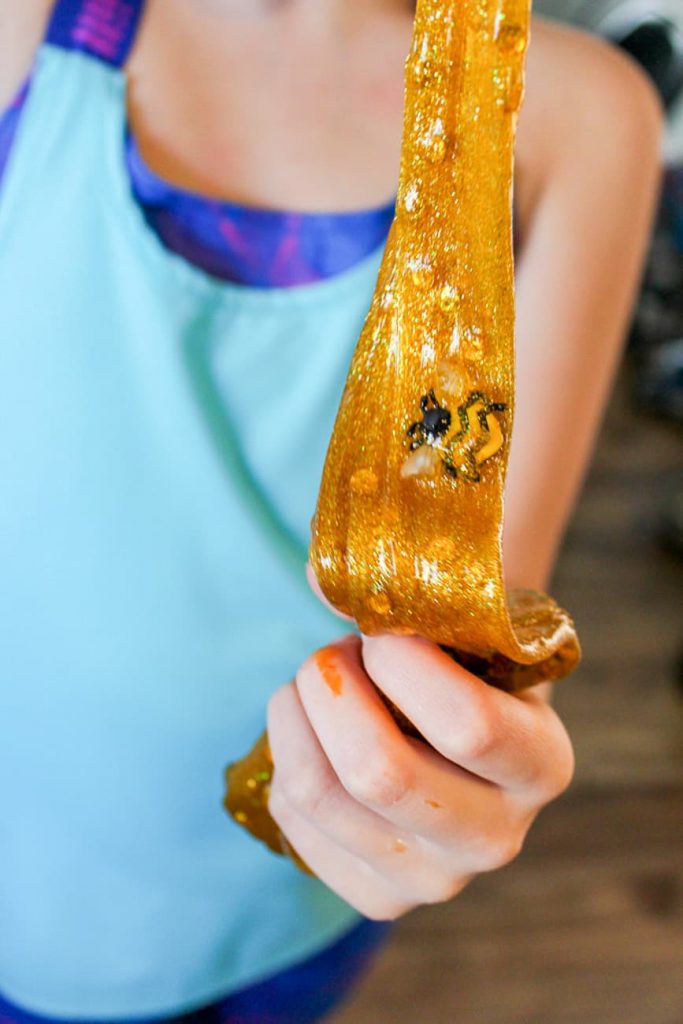 For the full recipe visit https://www.babysavers.com/winnie-the-pooh-slime/
Edible Jelly Bean Slime Recipe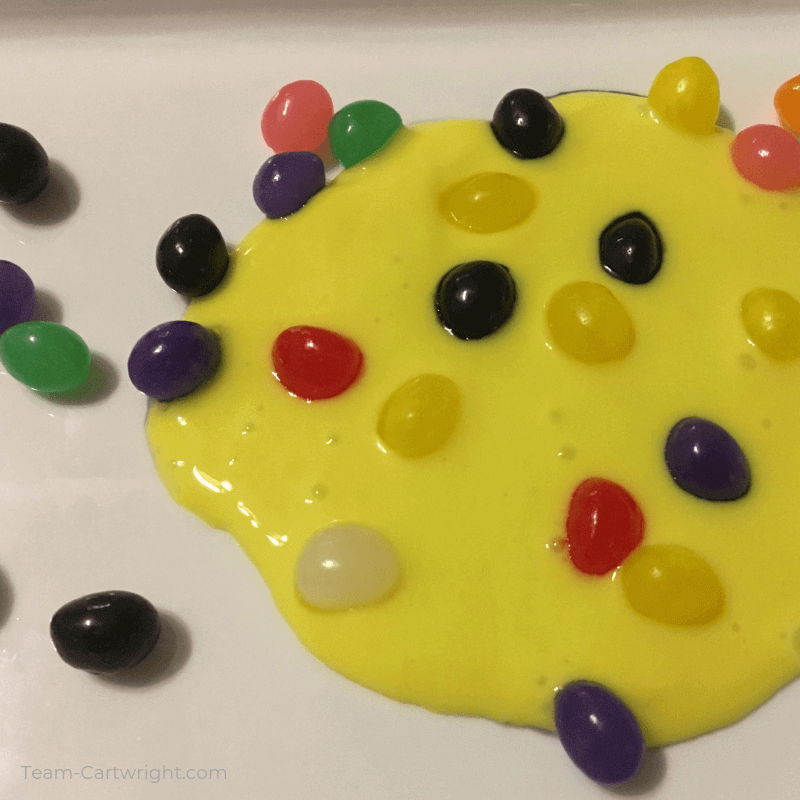 This unique edible Jelly Bean slime recipe was brought to us by Kimberly Cartwright from Team Cartwright. We absolutey love the unique idea of edible jelly bean that Kimberly has come up with!
Kimberly has this to say about her recipe:
"Turn jelly beans into a tasty slime experience! This colorful slime will wow your kids as they learn all about this slime's unique properties."
The idea of edible slime hadn't came to us until this recipe was shared with us. Making this slime is a fun activity for kids with the added benefit of it being a tasty treat they can enjoy afterwards.
The only downside we see to this slime is that it's not really meant to be played with for very long at all since it is edible and the jelly beans will get sticky when smashed.
The recipe is super simple and amazingly only requires 3 ingredients!
Ingredients:
Jelly Beans
Water
Cornstarch
To get the full recipe you can go to https://team-cartwright.com/jelly-bean-slime/
Fluffy Slime Recipe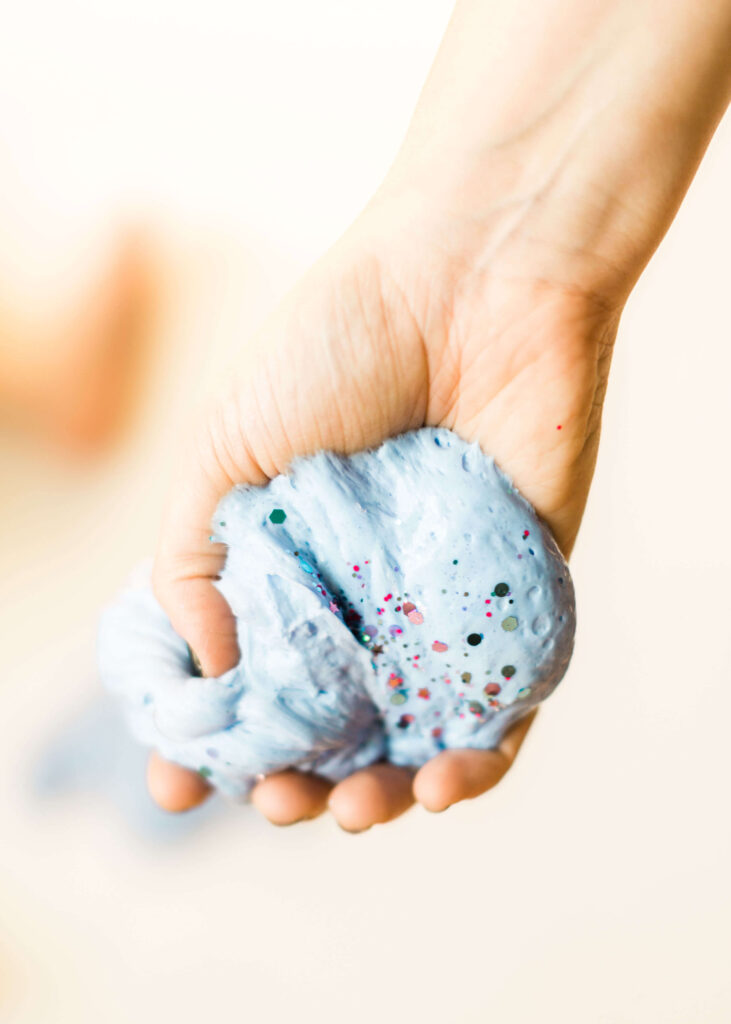 This fun fluffy slime recipe comes from Lexi Holzberg Kritzer at Glitter Inc! We love the fluffy and squishy texture of this slime!
Lexi has this to say about her fluffy slime:
"Fluffy slime is a simple upgrade to classic slime and you probably have all of the ingredients in your home to make it. Plus, kids are obsessed with the unusual and fun texture! It's truly an awesome kids activity."
One cool thing about this homemade fluffy slime is that you can get a different level of fluffiness each time you make it by simply changing the amount of shaving cream you use (the shaving cream is secret fluff making ingredient).
This recipe is simple requiring just 5 ingredients along with several optional ones as seen below.
Ingredients
School glue (white)
Water
Baking soda
Contact lens solution
Foam shaving cream
Optional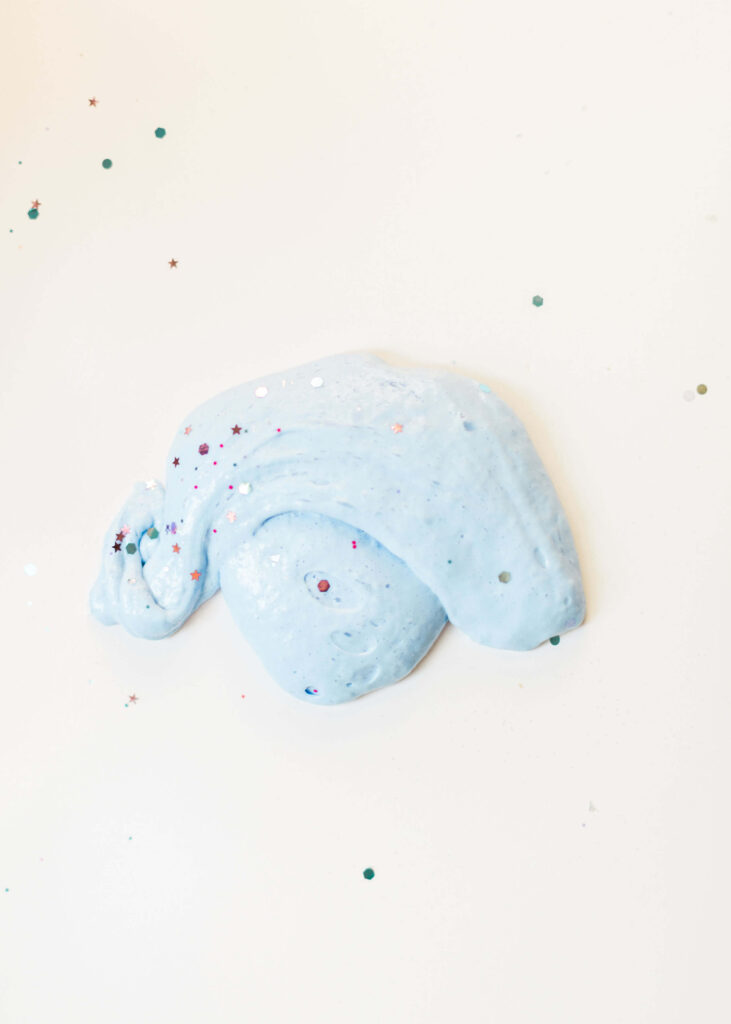 To get the full recipe go to https://glitterinc.com/how-to-make-fluffy-slime/
Super Easy 3-ingredient Pink Glitter Slime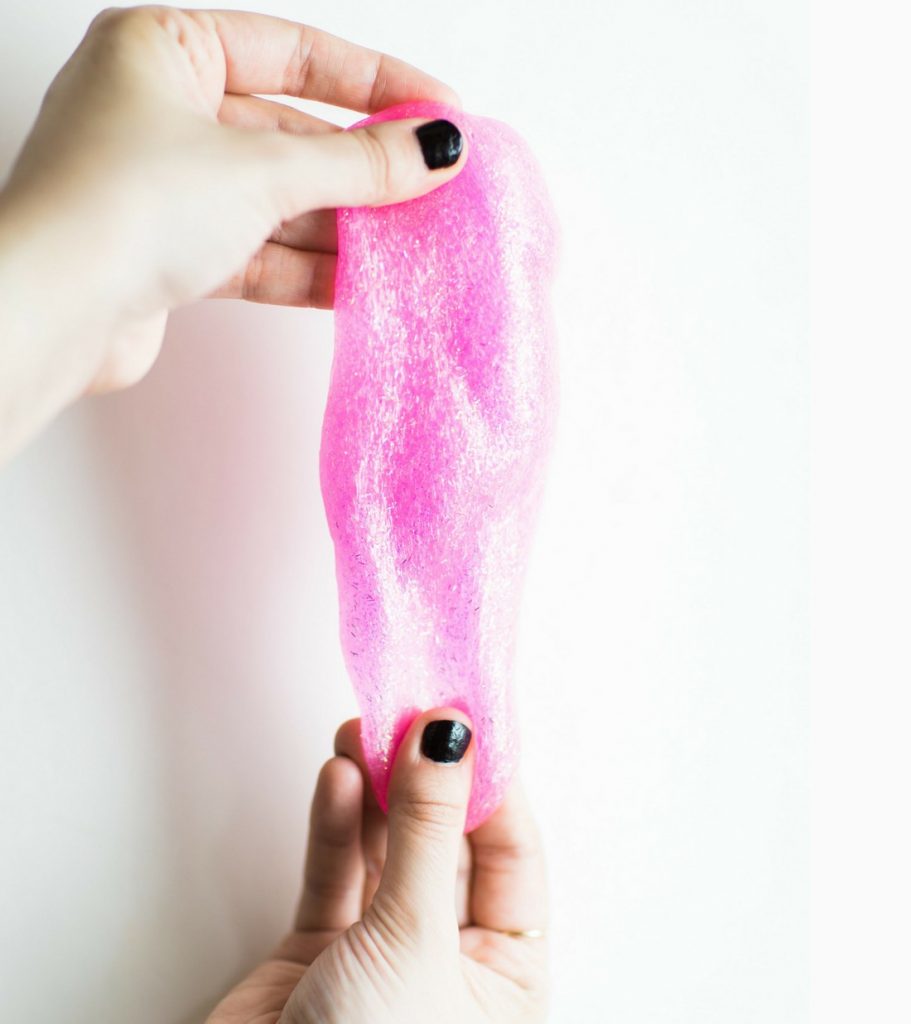 This simple yet beautiful DIY glitter slime recipe is another one from Lexi at Glitter Inc. We love the beautiful sparkles offer by the glitter addition to this recipe along with the fun pink color.
Lexi had this to say about her recipe:
"This amazing 3-ingredient glitter slime is so simple to make – you probably have most of the ingredients in your home – and kids are obsessed! It's a perfect hands on activity."
As mentioned above this slime is super easy to make and also perfectly safe for kids. It requires just 3 ingredients including glitter school glue, baking soda and contact lense solution.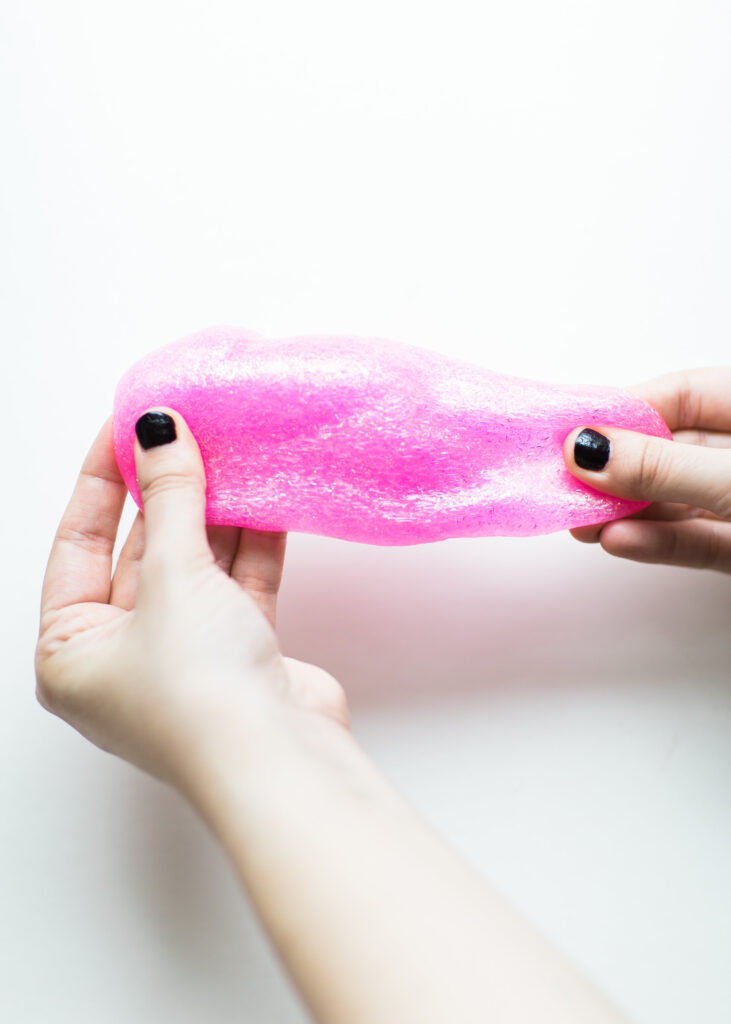 To get the full recipe simple visit https://glitterinc.com/how-to-make-3-ingredient-glitter-slime/
Incredible Hulk Green Slime Recipe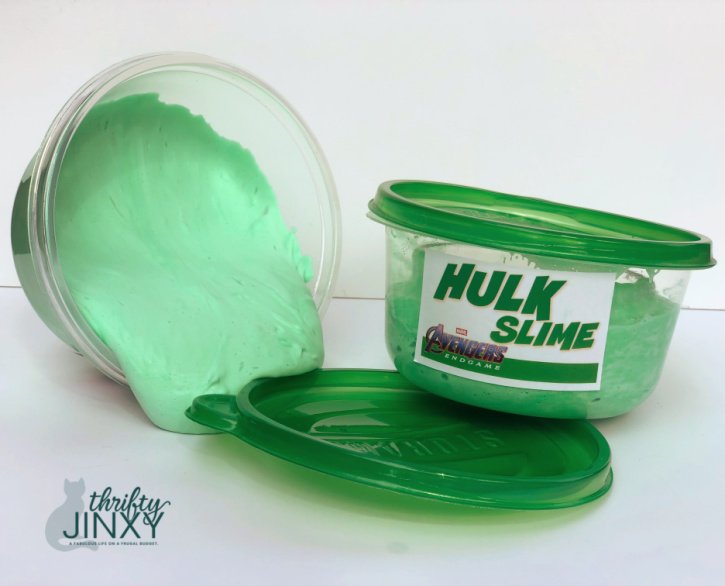 This cool green Hulk slime comes from Chrysa at Thrifty Jinxy is sure to be a hit among young boys! Most boys are fascinated with The Hulk and thus should find this recipe intriguing since it will let their wild imagination flow with Hulk scenarios.
Don't be fooled though, little girls will love this slime too!
This is another 100% safe borax-free slime recipe and it requires just 5 ingredients including white school glue, green food coloring, foaming shaving cream, baking soda
and saline solution!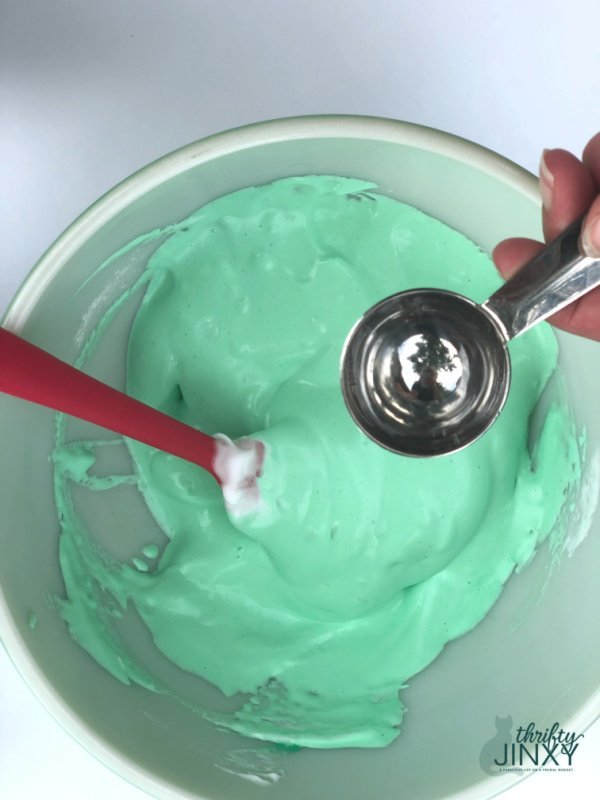 To get the full recipe simple visit https://thriftyjinxy.com/hulk-slime-make-your-own-avengers-endgame-fun/
Why We Encourage Slime Making!
Most kids love making slime!
In fact, I can't think of a child that I've ever met that didn't like slime, meaning it's almost a sure thing that your kiddo is going to absolutely love it!
Slime making is a good hands-on activity that is very entertaining, engaging and easy activity for kids to partake in.
Not only that but the ingredients are CHEAP!
And the same ingredients can often be used over and over again with a slight twist each and every time resulting in a totally different type of slime.
We also encourage slime making because it is a great way for parents to connect with their kids!
Lastly, once completed it gives children a real sense of accomplishment!
Educational Benefits of Making Slime
Slime making can be quite the learning experience for your kiddo. Think of it as an at-home science experiment of sorts.
In following the recipe your kiddo gets the benefit of learning to following instructions, learning how to measure out ingredients, which involves using math – numbers, counting, etc.
They also get to observe how science works and understand how the mixing of different ingredients causes chemical reations, resulting in something totally different forming.
There are many other educational benefits of partaking in at-home slime making that we haven't covered here.
Conclusion
Slime making is a wonderful activity nearly all kids enjoys. It is not only fun and captivating for children but also educational and offers a real sense of accomplishment!
Not only that but after the activity is over your child has a new 'toy' they can play with.
Lastly, kids will enjoy this activity time and time again by simply changing things up and tackling a new slime recipe adding additional nuances to the experience.
We hope you enjoyed our top 10 favorite Easy Homemade slime recipes.
Let us know what you think of the recipes above if you have tried any of them!