Learning how to manage your child's autism diagnosis is no small task. The signs and symptoms of Autism present themselves differently in everyone so there is no one solution that will work for everyone.
For that reason, it's important to come up with a unique treatment plan for your child. This includes autism proofing your house and also getting them some toys and gifts that are good for autistic children so they can have fun like normal kids.
Some things might not work and there may even be times when you feel like your child is regressing. That's why it's important to have a support network to help you get through.
Support for Married Couples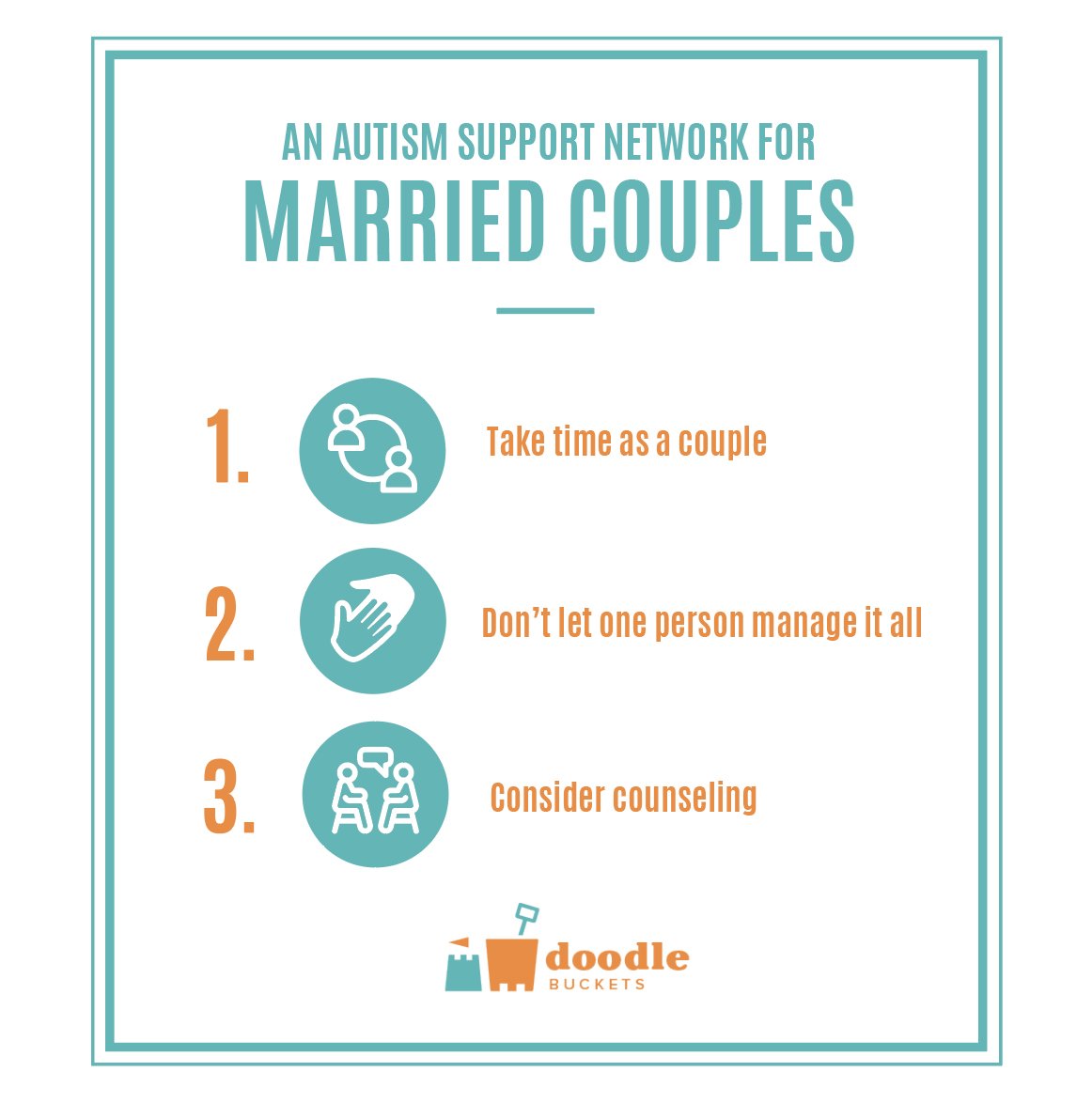 It can be hard to focus on your marriage in the aftermath of a a positive autism test. Autism puts a lot of strain on your marriage including:
The financial strain of having to pay for additional therapies, caregivers, and resources.

The emotional strain of having to reframe your vision for your family's future.

The mental strain of having to tell friends and family about it and figuring out how to weed through other people's conflicting opinions and find what's best for your child.
But it's important to focus on your marriage and keep the lines of communication open between you and your spouse. Not only will this help you, but it will also allow you to be better equipped to help your child.
Here are three ways you can support your marriage during this process:
Take time as a couple
When you're overwhelmed with the demands of daily life, a "date night" probably falls pretty low on your list of priorities.
But you should still prioritize spending time together as a couple. And this doesn't have to be anything big; just taking time to have coffee and talk is a good first step.
Don't let one person manage it all
It's easy to let one parent fall into the role of managing everything but this is a mistake. Juggling therapy, medical appointments, and IEP meetings is a lot for one person to handle.
Not to mention, you may have other children to care for and a household to run. Share in the decisions and work together as a team to tackle challenges that arise.
Consider counseling
Counseling can be a great resource for married couples navigating an autism diagnosis. It's helpful to have a neutral third party to help you figure out what needs to be done and deal with any feelings of being overwhelmed that may come up.
Support for Siblings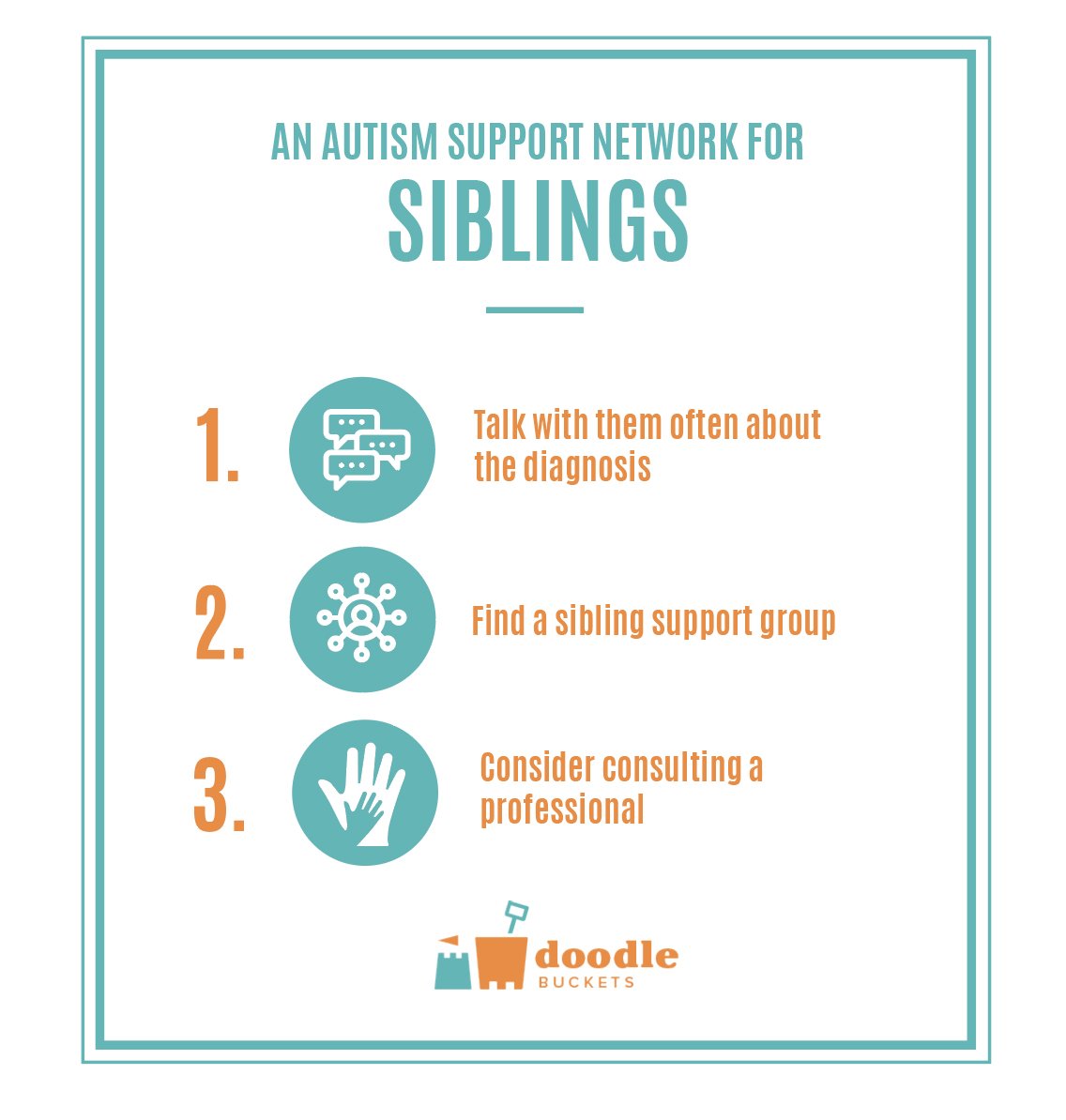 One of the hardest things about is an autism diagnosis is that often, parents have limited time or energy to devote to their other children. The child with autism needs a lot of support so most of their attention is focused on them.
But siblings face their own unique challenges. More is expected of them and they need help processing their own feelings over the diagnosis. And they may not fully understand what is going on with their brother or sister.
Here are ways you can support your other children:
Talk with them often about the diagnosis
It's important to talk to your other children about the diagnosis. And this is not just a one-time conversation, it's ongoing. There are a number of books that can help them understand autism better and open up new conversations.
Find a sibling support group
As they get older, your other children might benefit from attending sibling support groups. This is a great way for kids to make friends and find other kids they can relate to.
Consider consulting a professional
If you feel like your child is struggling with the diagnosis or acting out, you might consider working with a professional.
Finding Support in Your Community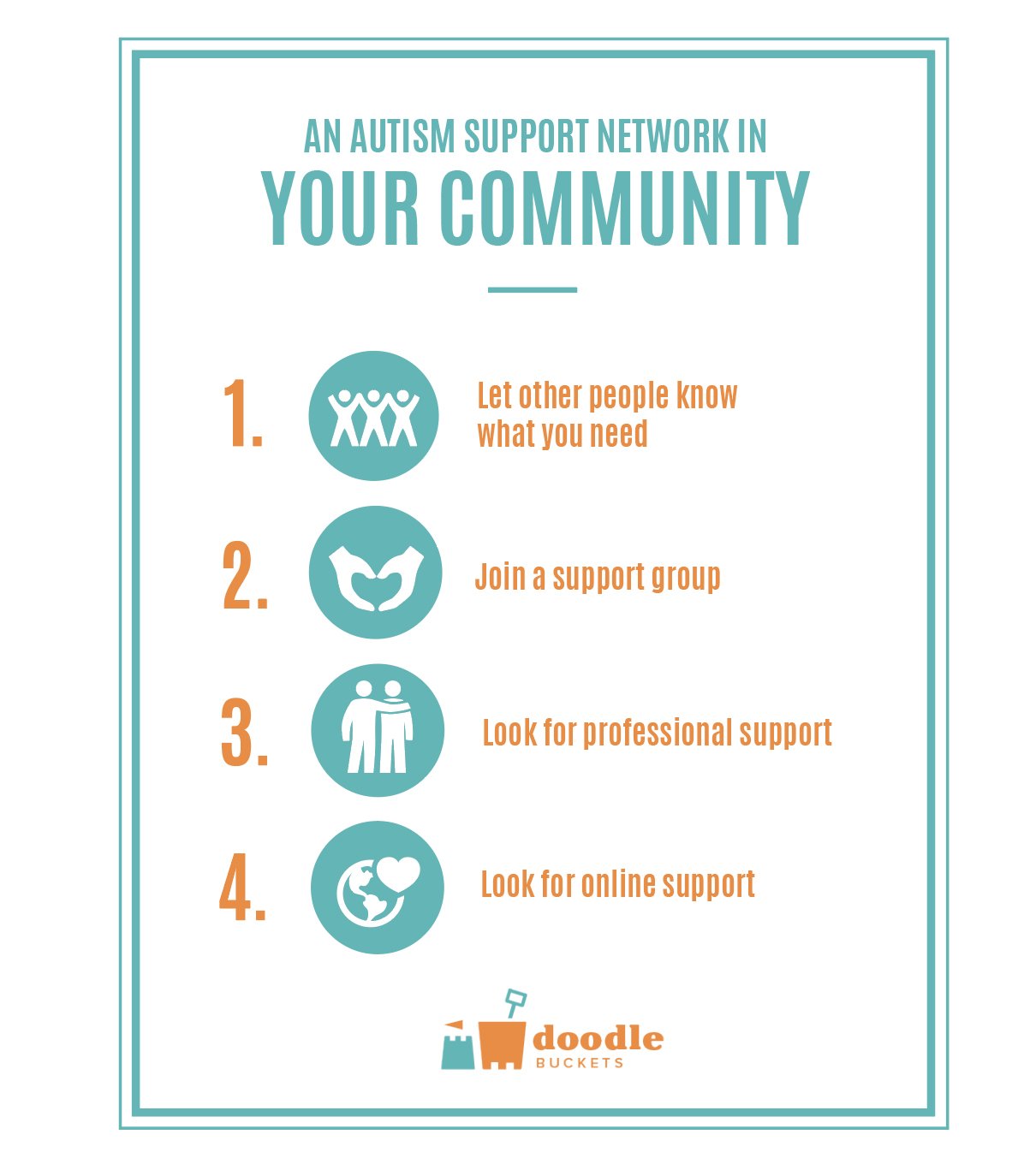 Finding support in your community can come from many different places. This can look like professional support from the doctors, therapists, and educators who help you.
After sharing the diagnosis with family they are often your biggest source of support along with friends, neighbors, churches, support groups, and more.
Here are four ways you can begin to build a support network in your community:
Let other people know what you need
The first step to building a support network in your community is to let people know some of the practical challenges of autism. There are many people who will want to help but they can't if you never tell them what you need.
Join a support group
Look for a local support group of parents who have autistic children. Support groups are helpful because they allow you to connect with parents who understand what you're going through and can share their experience and suggestions.
Look for professional support
Reaching out to educators, therapists, doctors, and other professionals will be a huge help. These are individuals with experience dealing with autism and will be able to help you figure out what your child needs.
Look for online support
If you don't feel like a lot of local support is available to you, then try looking online. You can connect with other parents on social media and get involved in the autism community.
Conclusion
Your child's autism diagnosis will have a huge impact on you, your family, and your closest friends. Your role as a parent is changing and many of these changes will seem unpleasant or scary.
You may feel fearful about your child's future and isolated from other people. This is why reaching out for support is so crucial.
If you're overwhelmed and not sure where to begin, Autism Response provides an Autism Response Team. By calling their toll-free number, you can speak to a team member in your community. They can provide resources and suggestions to families dealing with autism.