According to the CDC, one in 88 children are diagnosed with autism in the U.S. As a parent, that certainly doesn't make your child's diagnosis any easier to swallow.
It's easy to feel overwhelmed and wonder what your next steps are. What kind of treatment should you pursue? Can you even afford the right kind of treatment? How are you going to tell friends and family about this?
There is no "right way" to handle an autism diagnosis after an Autism screening confirms your concerns. This process will look different for everyone and what works for one family might not work for another else since Autism symptoms can vary widely among children. Follow along below as this article will offer some practical next steps you can take after receiving an autism diagnosis.
How to Handle the Diagnosis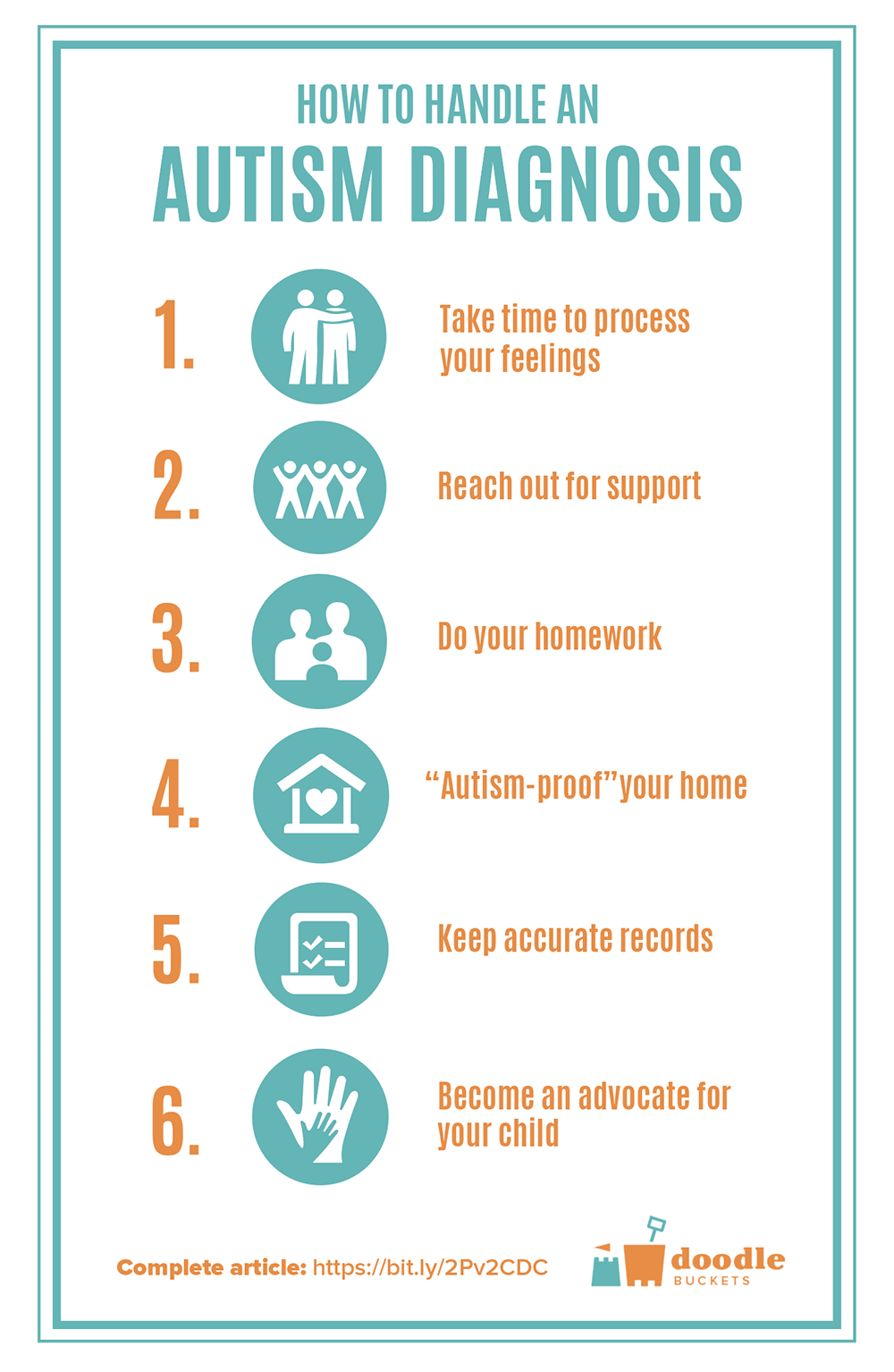 Parenting a special needs child comes with many daily challenges. The future you imagined for your child suddenly looks very different. Let's look at six ways you can begin moving forward in the midst of this uncertainty.
Take time to process your feelings
People deal with difficult news in different ways. Some parents find it makes them feel better to immediately jump into research and talk to specialists. However most experts recommend taking some time to process your emotions.
Autism awareness has grown exponentially over the years and parents now have a lot of access to resources and support. Although that doesn't mean you won't grieve for the future you thought your child would have. Just know that nothing bad will happen if you take a week to process the diagnosis.
Reach out for support
Many parents find that getting involved with a local support or advocacy group is helpful. You will need someone to talk to but friends and family members may not relate to what you're experiencing. This is why you need a community of parents who know what you're going through.
Reaching out to establish a support network will also be a great source of information to help you tackle problems as they arise. Other parents can share what worked for them and they may be able to point you toward specialists or other resources you hadn't thought of.
Do your homework
After receiving an autism diagnosis it can feel like you are entering a new world with an entirely new language. The sooner you can familiarize yourself with the terminology the better equipped you will be to act as an advocate for your child.
Doing research is great but be mindful of the time you are spending on the internet. It's easy to become overloaded with information and not all of that information will be relevant or accurate. As you're doing research always ask yourself:
Is this information relevant to my child?

Is it helpful?

Does this info come from a reliable source?
"Autism-proof" your home
One of the scariest side effects of autism is that it can cause some children to wander. Roughly 48 percent of autistic children will wander from a safe environment. And a third of these children are unable to communicate their name, phone number, or phone address.
These are scary statistics since most autistic individuals don't have a good sense of how to keep themselves safe. For instance, drowning following a wandering incident is the leading cause of death among individuals with autism.
This is why the National Autism Association is committed to helping families with autistic children who are prone to wandering off. Download their Big Red Safety Box, a toolkit designed to help parents prevent and respond to a wandering-related emergency.
This also includes getting some good autism toys so your kiddo can have beneficial and fun playtime.
Keep accurate records
One of the best things you can do is to keep accurate and organized records. It's easy to get buried under paperwork from various specialists, doctors, and educators.
So you'll want to have a system for organizing important paperwork for your child. This will not only be helpful for the specialists who work with your child but it will also help you.
Treating an autistic child comes with a lot of ups and downs. At some point, your child will regress and it can be easy to forget the progress they have made. Detailed records will allow you to look back and see how far your child has come.
Become an advocate for your child
There are a wealth of resources available to parents of autistic children and you are going to have to be the one to go out and find those resources.
It's important to start reaching out to specialists and looking into different treatment options. Unfortunately, this may mean getting put on a number of waiting lists. This can be a discouraging process as most people don't realize how much waiting is involved after an autism diagnosis.
You will encounter setbacks along the way. Friends and family members may not understand and they may not support you the way you wish they would. Doctors may make statements that scare you and make you feel helpless.
At the end of the day, there's only one option: keep going. You won't always have all the answers and there is no way to learn everything you need to know all at once. Do your best to be informed, keep doing the next right thing, and trust that you'll find what you need along the way.
Conclusion
Most importantly, don't forget to take care of yourself during this process. Parenting a child with autism is challenging but don't neglect yourself or your other relationships in the wake of an autism diagnosis.
Having a special needs child can cause many parents to work to the point of exhaustion. Ultimately, you can't help your child if you don't take care of yourself.
Do activities you enjoy. Continue to make time for your spouse and any other children you have. You are their advocate but you're also a person with needs of your own.
Finding a way to move forward after an autism diagnosis is challenging but know that help is available. For more information, check out the following resources: