Many people are familiar with some of the common signs of autism. But receiving a diagnosis for your child is a whole new hurdle to overcome.
Unfortunately, there's no single autism test your child can take to determine whether or not they have autism. Autism is a developmental disorder that shows up a little bit differently in everyone it affects. So you'll need to have them evaluated by someone with an in-depth understanding of the disorder.
This article will explain why your child needs a diagnosis, how to find the right specialist, and what the evaluation process will look like.
The Importance of an Early Diagnosis
A common question many parents ask is, "Wouldn't my pediatrician tell me if my child had a problem?" And the answer is yes, if your pediatrician knew about the problem then they would absolutely say something.
Most pediatricians will do a yearly developmental screening on their patients. This is a test that evaluates whether children have the basic skills they should have or if there are delays. But when your child only sees the pediatrician for appointments a handful of times before the age of 3 there is only so much they can observe.
In theory, the developmental screening should alert your pediatrician to any potential problems. But pediatricians know that children develop at different rates. And the reality is, most children who are delayed will catch up to their typically developing peers.
So often, pediatricians prefer to wait and see if the problem gets worse. And this isn't a bad strategy if you have a typically developing child.
But you're going to lose valuable time and resources if your child has autism. Autism affects a child's ability to communicate, interact with their peers, and participate in school.
In order to make sure your child receives the support they need, you want to receive a diagnosis as early as possible. Plus, a diagnosis will give you the resources you need to understand and help your child.
Finding an Autism Specialist
Finding a specialist to evaluate your child will depend largely on where you live and who is available. There still aren't that many medical professionals who are specifically trained to diagnose autism.
So the person who is best qualified will likely be the one who has the most experience diagnosing and working with individuals that have autism. This can include several different types of medical professionals including:
Developmental pediatricians

Child psychologists

Child psychiatrists

Pediatric neurologists

Certain therapists experienced in dealing with autism
You should start by asking your pediatrician for references. They will likely know of several qualified professionals and may even be able to help you get an appointment sooner.
You can also contact your local school district, regional agencies, and local autism support groups. They may be able to help you access low-cost or even free resources.
Keep in mind, most specialists will have long waiting lists and sometimes it can take months to get into an appointment. Call any available specialists in your area and ask all of them to put you on a cancellation list so you can get in as soon as possible.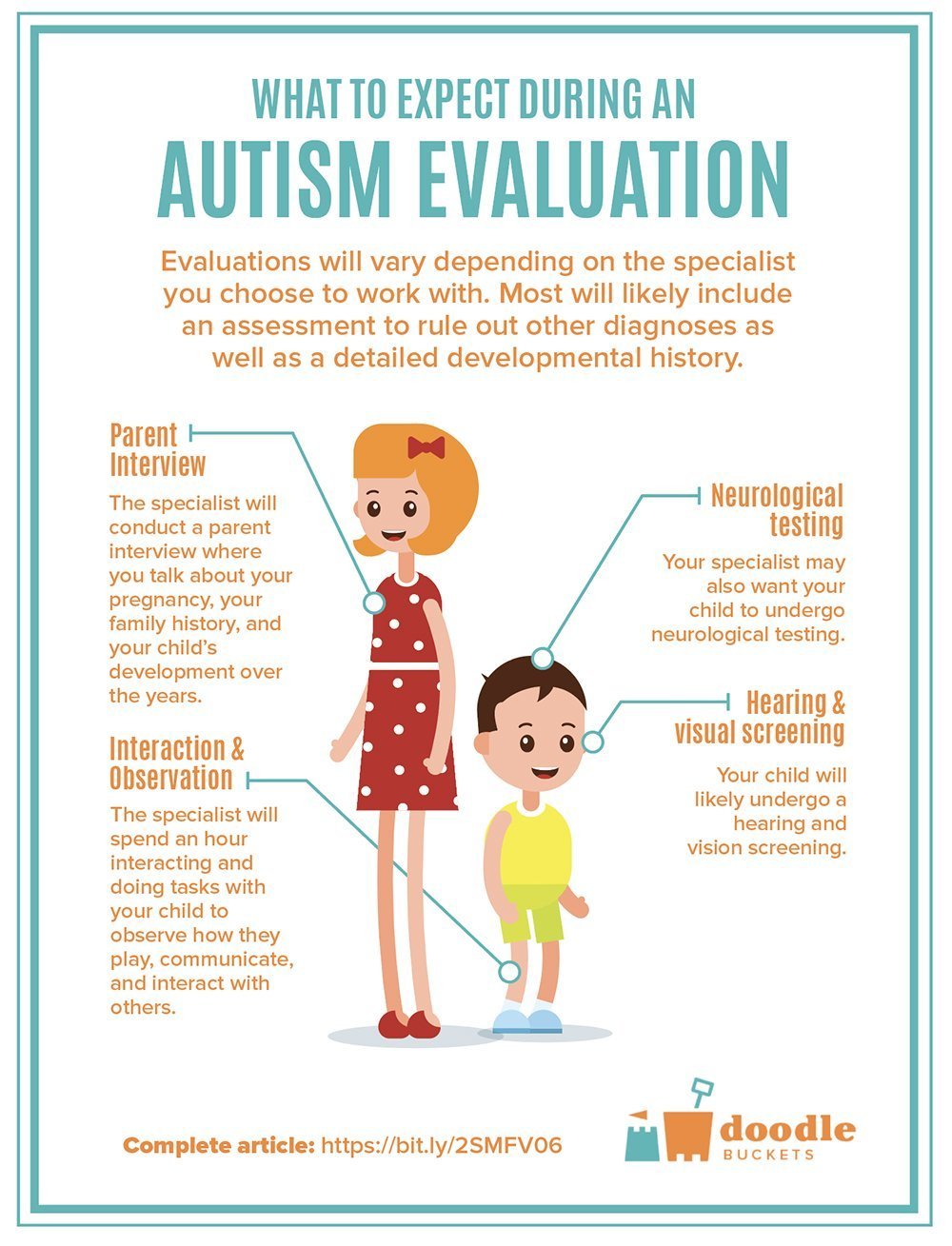 What Does the Autism Evaluation Look Like?
Because there is no standard test for autism, the evaluation will vary depending on the specialist you choose to work with. But it will likely include an assessment to rule out any other diagnoses as well as a detailed developmental history.
And the specialist will likely perform an autism diagnostic observation schedule (ADOS). Here is what the process might look like :
Your child will likely undergo a hearing and vision screening.

They may also undergo neurological testing and other tests.

The specialist will conduct a parent interview where you talk about your pregnancy, your family history, and your child's development over the years.

During the ADOS, the specialist will spend an hour interacting and doing tasks with your child to observe how they play, communicate, and interact with others.
This evaluation could take place in one appointment or across several different appointments. Make sure you bring any relevant paperwork, your insurance information, and a list of your concerns.
After an Autism Diagnosis
If your child does receive an autism diagnosis, you'll probably experience a range of emotions. It's completely normal to feel fearful, angry, confused, and so much more.
The most important thing you can do is learn everything you can about autism and how it will affect your child. Autism Now can help you find free local resources and information about how you can help your child at each stage of their development.
It also is a good idea to find some toys that are good for the development of kids with autism. This is especially important since toys for kids without this condition can often frustrate autistic kids.
Parent support groups can be a great way to receive encouragement from other parents who understand what you're going through. Other parents can share what worked for them or just offer a sympathetic ear. Facebook and Meetup.com are great places to find support groups.
Another thing to consider is how you're going to communicate the diagnosis to your extended family and friends. Remember, you really only need to communicate the diagnosis where you believe it will benefit your child.
If your child is under the age of three, you should contact your local Early Intervention office. If they are over the age of three, reach out to your local school district's special education office.
Most importantly, don't give up hope. Intervention services and medical treatment can greatly improve your child's prognosis and quality of life. And your child has you. With the right support network you can be an advocate for your child and help them become the best version of themselves.