Toy safety is an oft overlooked issue with a lot parents these days assuming that if a toy is for sale it must be safe… and is certainly certified as such. This assumption however is very misguided with the rise of the Internet and the ability to buy toys from unregulated vendors on the other side of the world in just a few minutes.
Far beyond the fun factor is the issue of toy safety which should obviously be all parents top concern when deciding on the right toys to get their little boy or young girl. If a toy appears to be fun, but you aren't able to verify that it meets safety standards setup by the federal government it is simply not worth messing with. No matter how good of deal it is or how bad your son our daughter wants the toy in question.
It could be hazardous and end up causing serious injury or even death to your child.
Brick & Mortar vs Online Shopping
Most toys at brick and mortar stores in the U.S. should be safe. This is due to regulations requiring manufacturers and toy importers across the U.S. to supply stores selling their toys with a written Children's Product Certificate based on test results from independent CPSC-accepted laboratories.
The biggest safety issue comes with the popularity of eBay, Alibaba and other international sellers in the online space. It's likely a number of these toys never go through any type of safety inspection and are rife with safety concerns.
Here's what happens…
With a few clicks of a mouse an unsuspecting parent happily strikes what they think is a deal by finding a great price on eBay for that play set they have been eyeing for their kiddo. It looks just like the ones selling at Wal-mart but is only 1/2 the price!!! They think they've scored a steal that their boy or girl will love only to later find out that it was made cheaply in Hong Kong with lead-based paint, toxic plastic or quickly falls apart and becomes a choke hazard.
If they are lucky they figure this out before it causes an emergency with their child or if less lucky they find out after a trip the ER.
The bottom line is it's simply not worth the risk and you're better off sticking with reputable online merchants such as Amazon or Wal-Mart. Though you'll still need to do you due diligence on whether specific toy you are buying have any reports of safety issues or have been recently recalled.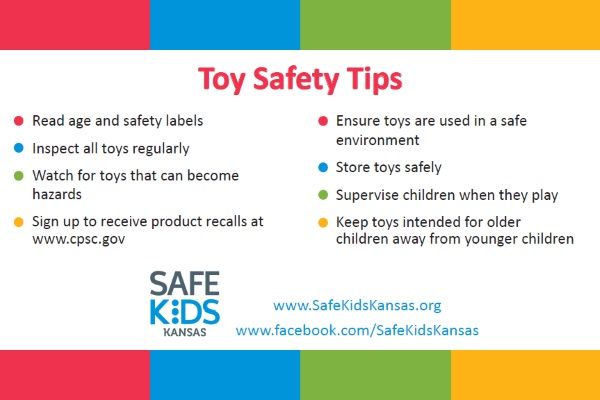 Safety Tips Parents Can Use When Shopping
When choosing toys parents should consider the following along with examining the toys packaging and tags for any safety labels or warnings.
Safe toys should be:
Painted with non-toxic lead-free paint
Not have small parts or pieces that could be a choke hazard
Made with 100% non-toxic materials
Shatter-proof
Electric toys should be UL Approved
Not have sharp points or edges
Be age appropriate
Safety Tips Parents Can Use for Toys Their Child Already Has
Another thing parents need to remember is that a toy that was safe at the time of purchase isn't necessarily always safe. Toys may be recalled or experience wear and tear which can result in them being unsafe so parents should routinely inspect their kids toys.
Things to check for include:
Breaks or cracks in their toys which could splinter or pinch
Loose pieces that could be a choke hazard if they come unattached
Chipping paint that could be hazardous if swallowed
Some toys inevitably end up on the recall list so important to check recalls from time-to-time.
Importance of Age Appropriate Toys
Making sure you get age appropriate toys will not only allow your child to have more fun but will ensure they are playing with toys that don't pose a safety hazard. A marble set for a 3 or 4 year old is obviously a safety risk due to the choke hazard even if they love marbles but may be okay with very strict supervision for a 5 or 6 year old.
Below we have suggested some appropriate toy types by age. Remember when reading our list below, each child is different and they all develop at their own pace. So if you're child is a fast or slow developer toys on a younger or older age list might be appropriate for them. It's important to use your best judgement while always taking a conservative approach if you are concerned about a particular toy being safe based on your child's development level at that particular time.
---
Toys for Infants – Newborn to 6 Months Old

Newborn Babies and up to 6 months old and beyond love to put things in their mouth so it's of upmost concern that you ensure that they are not given any toy that could present a choking hazard. At this age they are learning and developing quickly so it's important to get them toys that encourage this development while they play.
Popular Types toys for infants:
Toys they can suck on, hold or shake and make noise with. These include pacifiers, wooden rattles, small stuffed animals, dolls, teething toys, squeeze toys and ball toys
Things they can look at – picture books are a great option here
Toys they can be active with – water mats or play pins are an excellent option that allow your little one ample space to move around and begin to develop their motor skills improving hand-eye coordination and balance
Things that they can listen to – musical books with songs or talking books with nursery rhymes are a great option
---
Toys for Older Infants – 7 to 12 Months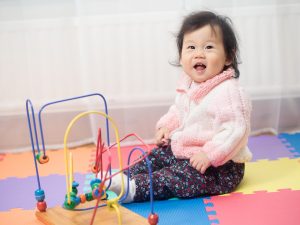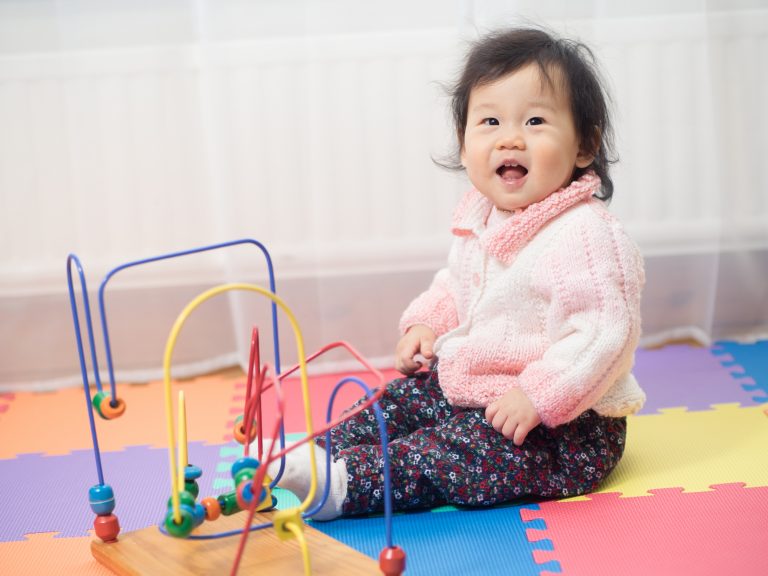 Once your little one gets to the age of 7 months and on up to 12 months old they will likely be moving around like crazy. From rolling over to scooting around to even pulling themselves up and standing they will be moving all over the place as they are advancing towards walking in the next stage. Toys that help them further develop their balance are great.
They will also begin to develop the ability to understand words, colors, body parts and so on. This makes educational toys an important component to their toy box at this age.
Popular Types of toys for older infants:
---
Toys for a 1 year old baby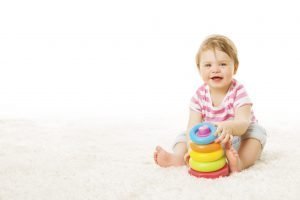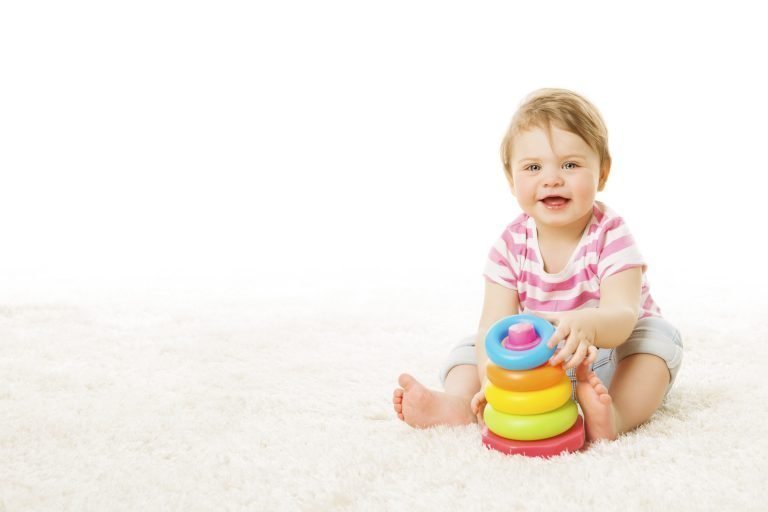 As your young boy or little girl approaches and surpasses 1 year old they will only begin to move around more. They are slowly learning to walk and before you know it they will be running all over the house. And if they're on schedule they will start saying their first few words. They also like to try new things (like walk up or down the stairs) so it's important that adults be their to guide them during their exploration and keep them from harms way.
Popular Types of Toys for 1 year olds:
Toys that help them learn words – books with a few words and pictures of everyday objects are great
Musical toys that make sounds – sound books are great
Toys that let them get creative – construction paper, markers and crayons that let your kids make their own creation
Toys that allow them use their imagination – toy cars, dolls, puppets, toy laptops or mobile phone and even toy animals, dress up toys and costumes
Building Toys – wooden and plastic block set that are still rather large but can be smaller than ones for children under 1
Toys that encourage them to be active – outdoor toys like sandboxes or wagons that they can have mom or dad help them with
---
Toys for a 2 year old toddler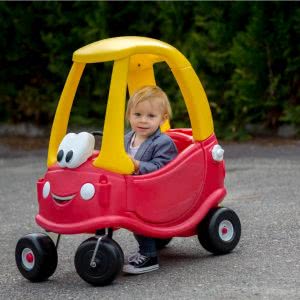 At 2 years old your child is a full fledged toddler and is quickly learning new words. At this point they should be developing their sense of fear but it's not fully there so you need to stay on alert. They will still be trying many new things such as climbing, rolling, running or jumping down from things so active toys are a good fit. Educational toys are great for age 2 as well since they're just beginning to learn the alphabet and numbers.
Popular Types of Toys for 2 year olds:
---
Toys for a 3 to 6 year old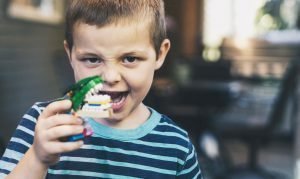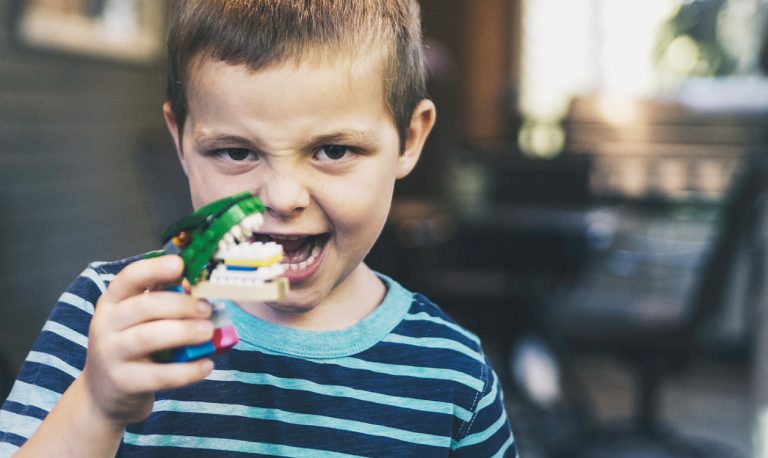 During this age range your child is heading off to preschool and then kindergarten. They are still growing and developing rapidly in their understanding of the world and what their body can do which means they still like to try new things. They are now old enough to understand the concept of friends and like to play with other kids. This makes group play important for them as they learn to share.
Popular types of toys for 3 to 6 year olds:
Educational Toys that develop their problem solving skills – more complex puzzles and blocks that snap together, sorting sets to be sorted by size, shape, color, etc…
Toys for pretend play – dolls, dress up clothes, puppets, faster battery powered ride on toys and toy figures such a movie character or army men for imaginary play
Things they can create with – more complex art and craft sets, paintbrushes, markers and paper for painting or drawing, chalk and chalkboard, play-dough, glue, preschool safe scissors
Toys that make music – microphones and karaoke machines, musical instruments, keyboards, harmonicas, etc…
Books with words – pictures books with short but full sentences, enough pictures help hold your their attention while they a developing their language skills with the new words
Active toys to develop their major muscle groups – wagons, climbing toys, climbing toys, sports equipment such as a football or baseball, mini dirt bikes, wagons, a tool set with workbench, hammer and nails
Tech toys – educational programs that teach math or language in a fun way such as a robot building kit
Building toys – Lego sets and other more complex building sets that develop their fine motor skills
Check the resources below for more info about safe and age appropriate toys for your little boy or girl