Are you having a hard time finding John Deere toys for your kids? If so, we've researched what the top choices have to offer and put them into a review for you. So, the hard part has been done – all you need to do is have a read through the different options below and select the one that stands out to you the most.
A buyers guide section is also available at the end to provide you with further details on how to go about making a final choice.
Our Top Picks
Our List of the Top John Deere Kids Tractors
Our Top Picks
Buyers Guide to the Best John Deere Toy Tractors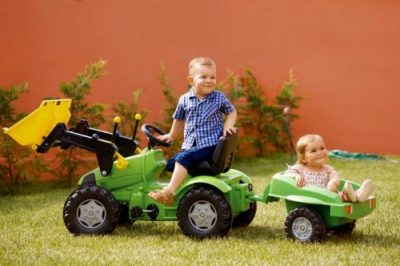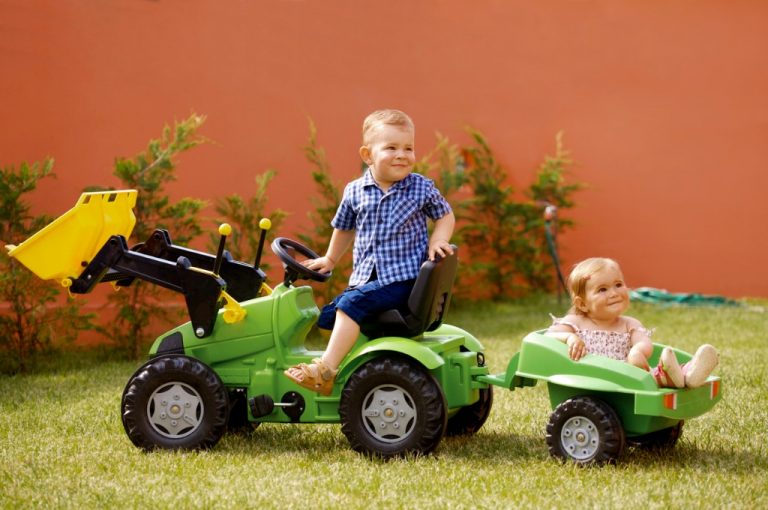 So, that was our review on what some of the best John Deere ride on toys for kids have to offer. Hopefully, you can go ahead and pick the one that you think your child would enjoy playing with the most.
However, if you're still feeling a little unsure, don't worry. We've put together this buyers guide section to provide you with some additional information. By the end, you'll be feeling more confident about which one to pick.
Top Brands
After reading through the review above, you will have noticed that there are a number of different brands that manufacture John Deere toys. If you were interested to learn more about these top brands, take a look at the section below.
Peg Perego
Peg Perego has been in the business for over 60 years and have become one of the leading companies that manufactures toys for children. They started off with car seats and strollers, but have now expanded their range to toys that children have been having a ton of fun with.
Power Wheels
Power Wheels is a fantastic brand that manufactures electric powered ride on cars for kids that are powered by rechargeable batteries. They allow kids to have a blast riding around for hours on end and they have a wide selection of designs available.
These range from Jeeps and sports cars, to motorcycles and dune buggies. The realistic designs are excellent for encouraging kids to play with more imagination. 
Tomy 
TOMY is a well-known company that has been creating high-quality toys for kids all over the world. They make awesome toys that help children to have fun while learning crucial developmental skills.
Their John Deere collection is one of their classic toy lines that kids have been having an absolute blast with.
Popular Types
Now that you've gained a better idea of what the best John Deere toys have to offer, as well as what some of the top brands are, you can begin narrowing down your search to finding the best one for your child.
Take a look below to learn more.
Pedal Tractor
Pedal tractors are a popular option because they require kids to pedal them and be more active. As a result, they feel encouraged to exercise and play outdoors more often, which is awesome for ensuring that they remain healthy.
Gator Toys
Gator toys are fun for kids who want to drive around by using a foot accelerator and steering wheel. They usually find the whole experience more realistic which inspires them to play more creatively.
Wagons
Wagons usually come as part of a set or they can be purchased separately and attached to the back of a John Deere toy. Children have a lot of fun using these wagons to haul items around and be more imaginative with how they play.
Combines
The John Deere combine toys can be fun for kids to role play what they may have seen on farms with people using the real thing. As a result, it can encourage them to play with more creativity.
Tricycles
John Deere tricycles can be an awesome option for children who want to pedal around outdoors and maintain balance with ease. They are excellent toys for younger kids who may be trying to learn how to ride a regular bicycle.
Engine Toys
The engine toys that are available can be super fun add-ons to your child's John Deere toy collection. They have a realistic design which helps kids to use them to play creatively. Furthermore, we like how they often make sound effects and have lights.
These engine toys also involve kids assembling the various pieces. Therefore, they can be highly effective at developing your child's hand-eye coordination, motor skills, and problem-solving abilities.
There are so many different pieces available for kids to assemble and disassemble that you can leave them to play for endless hours. This can also be a great opportunity for them to play in small groups to work on the engine toy as a mini project and improve their social skills.
Trucks
John Deere trucks can be fun for children who want to pretend to drive trucks. Due to the realistic design that they have, kids are able to have fun playing with them in creative ways for hours on end.
Mowers
The mowers are another exciting option for kids as they're able to use it in their pretend play games. They can role play how they may have seen their parents mowing the lawn, which is great for their creative thinking skills.
Best Options for Girls
While reading through this review, you will have noticed that all of the John Deere toys have the traditional yellow and green design. This is because these are the most popular options that have a realistic feature that kids have been loving.
This can make it a little tricky when it comes to finding John Deere toys for girls and you'll be glad to hear that we've found a rare pink option above and it is very highly rated. Having said that, girls have still been having a lot of fun with the traditionally designed John Deere toys but of course it's hard to wrong with a pink option for girls.
Final Thoughts on the Top John Deere Toys
All of the information that you need to go ahead and pick the best John Deere toy for your child can be found right here. These are great toys for younger toddlers since none of them pack the extra power of a 24v battery operated riding on toy.
Regadless, be sure to read through all of the main features, pros, cons, age recommendations, and what makes each toy stand out.
The buying guide section also ensures that you are equipped with everything you need to feel awesome about making a final decision.
Popular Picks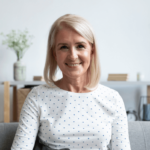 Sheryl is a grandmother who resides in Michigan. She has 3 adult children, many grandchildren and a large number of nieces and nephews. Sheryl is especially equipped to write about toys because she has been reviewing kids stuff for years and also buying toys for decades as a mother, grandmother, aunt and great aunt.
Sheryl has a keen eye for and extensive experience in selecting popular and high quality toys and gifts not only for her kids as they were growing up but for her grand children since her children are still having babies to this day, making her equally qualified in selecting good toys for not only teen and tweens but also babies.
She takes pride in not only finding the best toys for her grand kids but also in staying up-to-date on trends in the toy industry and keeping up with the latest new toys that come out each year.
Sheryl has extensive experience reviewing toys over the years and she excited to join the Pigtail Pals editorial team as their main contributor for their toy and gift guides from June 2020 forward! Sheryl has reviewed and updated all content written prior to her joining the Pigtail Pals team and made modifications where appropriate.
Jesse is a full time Internet Marketer with over a decade of experience reviewing products and toys in particular. Growing up in a large family with many little cousins and nephews he has a keen eye for picking out great gifts for kids. Over the years Jesse has developed an understanding of exactly what consumers want to see in a review in order to help them in their buying decisions. Sheryl and Jesse have worked together to craft the toy and gift guides here on Pigtail Pals!
Jesse also spent several years as a full-time personal care assistant employed at "The Dream Works" working with Autistic adults including his older brother.