If you're interested in a Dream Tent pack for your kiddo then you'll want to check out our review below to learn everything you need to know about them.
We've included details about the various tent themes that are available, the features, pros, cons, and more information about the brand in the buyers guide section at the end. These tents can provide kids with a fun bedtime experience every night.
After reading through our review, you'll be feeling more sure about the Dream Tents and whether your kid would enjoy them. If you're already set on getting one of these you'll also be able to get an idea of which theme your son or daughter will enjoy the most.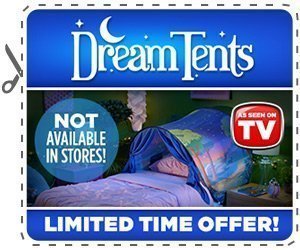 Our Review of My Dream Tents 
There are several different themes available when it comes to choosing between the different tents available. The themes are always changing and you never know which ones are going to be available but some of the themes currently available include the following:
Other Dream Tent themes not pictured here
Underwater world
Magical mermaid
Frozen Fantasy
Superhero
So, with all of the awesome themes available you can be sure to pick one that your little boy or girl would love. The designs are an excellent way to encourage children to be super imaginative while playing. As a result, you can expect it to improve their creative thinking skills.
In addition to this, the various themes are made with a range of colors. So, kids can be sure to play with the color that they like the most.
All of the tent themes come with star decorations that glow in the dark. Reviews confirm that this is fantastic for lighting up the tent and making it a more magical experience for kids.
If your child is scared of the dark, these tents could enable them to become more comfortable. You can turn the lights off in their room and keep the glow in the dark star lights on to gradually help your child become less afraid of the dark.
We also liked how there's a reading light available that can be shined onto the star decorations to make them light up even brighter. The reading light is a superb way to encourage your child to read more often.
Reading books at night inside the tent with the lights is a much more exciting way to inspire your kids to work on their reading abilities. The light used for reading can be connected onto the top of the tent for a hands free experience for children to focus on reading.
Children also have a blast detaching the light and using it as a flashlight to have fun while inside the tent.
The materials used to make the tent have been made with high grade fabrics. Therefore, parents are given the reassurance that it's likely to last their children for years with continuous use.
Another one of the excellent features that parents have liked about these tents from the reviews is that they can be easily portable. This is because you're able to fold them into a flat state which makes them very easy to take with you while traveling.
It's handy for when kids want to use the tent to play at a relative's or friend's house. People have been surprised to find that they're able to store the tent in bags to carry without it being too much hassle.
The folding aspect also means that you can keep the tent in storage conveniently without it taking up too much space.
Pros
Can provide kids with privacy 
Great for bedtime play 
Can be easily set up over your child's twin size bed 
Cons
Can't be machine washed
Only work well for indoor areas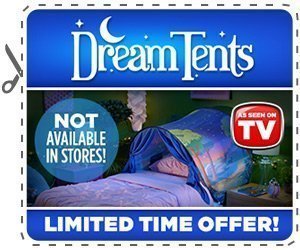 More Details About the Product & Manufacturer 
Now that you've had the opportunity to read through our review of these tents, you may want to discover more about the product and manufacturer. If so, you can check out the sections below.
There's more information surrounding some common questions, details about the brand as seen on TV, and more.
Official Commercial
MagicPad Light Up Drawing Board
Magictracks Glow in the Dark Race Track
Product FAQ
What Are Dream Tents?
These tents comes with glow in the dark features that are available with their variety of themes and colors. They fit well onto bunk beds, twin beds and full sized bed. They can provide kids with a fun experience while they're in bed getting ready to sleep.
How to Set Up Your Dream Tent?
Start off by folding the tent out as it arrives completely flat. There are hooks included with the package that you can use to connect the tent to your child's bed.
A manual is also available that has specific instructions on the best places to set up the hooks. Prior to letting your child get underneath the tent, be sure that it's steady so that it doesn't collapse.
Kids can then go under the tent and lay in bed to play, read, and sleep. After children have finished using the tent, you can remove the hooks and fold the tent into its flat state. You can then easily tuck it away into storage until your children are ready to play with it again.
Unboxing Video
How Many Glow in the Dark Stickers Do They Come With?
There are a range of glow in the dark stickers available with these tents. If your child wanted to have more, or lost some of them, you can order more from mydreamtents.com.
Where to Buy Dream Tents?
You can buy a tent on the company's website (mydreamtents.com) where they offer a range of designs and accessories, such as a multi-colored nightlight.
They can also be found at Walmart and Amazon.
What Size Do the Kids Dream Tents Come In?
When the tent is fully assembled, it measures in at 0.55 x 19.5 x 19.5″. Therefore, it fits well for full size beds. There are also options for bigger queen size beds but as of now they are all sold out. Since most children do not have Queen size beds the company has not made it a priority to keep them in stock.
How to Get Your Free Light? 
The reading light isn't something that comes with the tent package on its own. You have to let them know that you want the reading light and they'll send it usually with a small shipping and handling charge.
Customer Service
The brand is dedicated to ensuring that they're able to provide their customers with a service that is friendly and helpful.
You can give them a ring on 800-882-1334. You can also send them an email for any queries you may have to dreamtents@rehelpdesk.com
Shipping
Once you've placed your order and received confirmation, it will take 30 days for the product to arrive. It's sent out using Fed Ex Smart Post.
You can also check on the status of the order you've made to ensure that it's on its way. People must also be 18 years or older to place orders.
Returns
Customers like how there's a 60 day money back guarantee time period. If you're not completely happy with your purchase, you can return it within the 60 days of it being delivered.
You'll need to get hold of an authorization number to return the item which can be found by getting in contact with their customer service team.
Products should be returned using USPS. They'll require your phone number, address, full name, and email address when you return the item.
Final Thoughts on MyDreamTents
That concludes our review of the As Seen on TV tents available from Ontel. They can be super fun for kids to play in and sleep in at nighttime. It also encourages them to think more creatively and read more.
With such a wide variety of themes and colors available, you can be sure to pick the ones that are best for your child.
Hopefully, the details found in our review has helped to make you feel more confident about these As Seen on TV tents.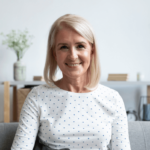 Sheryl is a grandmother who resides in Michigan. She has 3 adult children, many grandchildren and a large number of nieces and nephews. Sheryl is especially equipped to write about toys because she has been reviewing kids stuff for years and also buying toys for decades as a mother, grandmother, aunt and great aunt.
Sheryl has a keen eye for and extensive experience in selecting popular and high quality toys and gifts not only for her kids as they were growing up but for her grand children since her children are still having babies to this day, making her equally qualified in selecting good toys for not only teen and tweens but also babies.
She takes pride in not only finding the best toys for her grand kids but also in staying up-to-date on trends in the toy industry and keeping up with the latest new toys that come out each year.
Sheryl has extensive experience reviewing toys over the years and she excited to join the Pigtail Pals editorial team as their main contributor for their toy and gift guides from June 2020 forward! Sheryl has reviewed and updated all content written prior to her joining the Pigtail Pals team and made modifications where appropriate.
Jesse is a full time Internet Marketer with over a decade of experience reviewing products and toys in particular. Growing up in a large family with many little cousins and nephews he has a keen eye for picking out great gifts for kids. Over the years Jesse has developed an understanding of exactly what consumers want to see in a review in order to help them in their buying decisions. Sheryl and Jesse have worked together to craft the toy and gift guides here on Pigtail Pals!
Jesse also spent several years as a full-time personal care assistant employed at "The Dream Works" working with Autistic adults including his older brother.