Have you seen the Magic Pad advertised on TV and are wondering more about what it is and what has to offer? If so, you're in the right place as we've carried out research and created a detailed review.
Below, you'll be able to gain more knowledge about the wide variety of features that it has to offer, the educational and creative benefits, as well as some of the potential downsides.
You may be surprised by how much this magic sketch pad has to offer and how the unique features make it stand out from the rest.
By the end of this magic pad review, you'll have a much better idea as to whether you think your child would have fun and make use of it or not.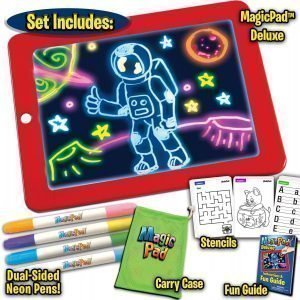 Our Review of the As Seen On TV Magic Pad Deluxe
The deluxe version of the MagicPad drawing board comes with a bunch of accessories for children to stay occupied with. In the standard set, you get 30 stencils, but with the deluxe, your kids can use the 42 stencils that are available.
These stencils enable children to be involved in plenty of activities for hours on end. We also liked how the stencil designs can either be used for kids to use and draw onto the board, or as inspiration for their own creations.
This deluxe tracing pad also features 2x the amount of LED lights compared to the original one. As a result, it's able to shine incredibly brightly, especially with the lights turned off.
In addition to this, the surface for kids to draw and write on is over 30% larger. So, your child is provided with more space to let their imagination run wild.
Stickers are available which your children can use to personalize the border of their tracing pad.
This set also comes with four pens that each have a dual sided feature, as well as a case. People have been loving how there's a case available as it means that you're able to pack the set up and take it around for your child to use while you're on the go.
In addition to this, the neon markers can be slipped onto the board which makes the set easier to put away into storage when it's not being used.
Parent have also loved how the drawing tablet can make for an excellent bedtime activity. When you turn the lights off, kids can be left in amazement of how the board and their designs illuminate.
There's a button available on the edge of the tablet that you can use to make the colors shine in the dark. With a range of 8 lighting effects, you can be sure that your child's visual senses will be stimulated.
It can also be a good activity for kids to do in the dark as they're more likely to get tired and have a good night's sleep.
When the drawing pad is illuminated, kids can use it as a way to light up their room dimly at night. It's an excellent function that can help kids who don't like complete darkness to fall asleep easier.
The pad can be used as much as your children like. This is a result of the easy wipe feature. You're able to wipe the screen to make it completely clean.
It's a superb feature that means kids can easily remove mistakes and start over. Their creative thinking skills are able to flourish due to the unlimited possibilities of drawings they can come up with.
We were also impressed with how they've included 2 suction cups that are available on the back of the tablet. Kids can use the suction cups to stick the drawing tablet to a range of surfaces.
If they're proud of their artwork and want to show it off, they can put it on display on the refrigerator. Not to mention, the tablet can be stood up. This allows children to display their art by putting the tablet on cabinets or other flat surfaces.
Reviews reveal that parents have been taking advantage of using this as a way to encourage their children to have fun and learn. Using the illuminated feature and range of bright colors available, kids could have more fun learning about math or English by writing things down on the pad.
It's a lot more exciting than writing things down and reading off a plain piece of paper. Furthermore, you can expect your child's reading abilities to improve too.
Children can also have fun using the tablet to play games with friends and family. They can play games such as hangman and have fun in small groups. It's also a good activity that they can use on their own to spend some alone time for independent play.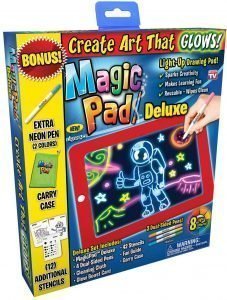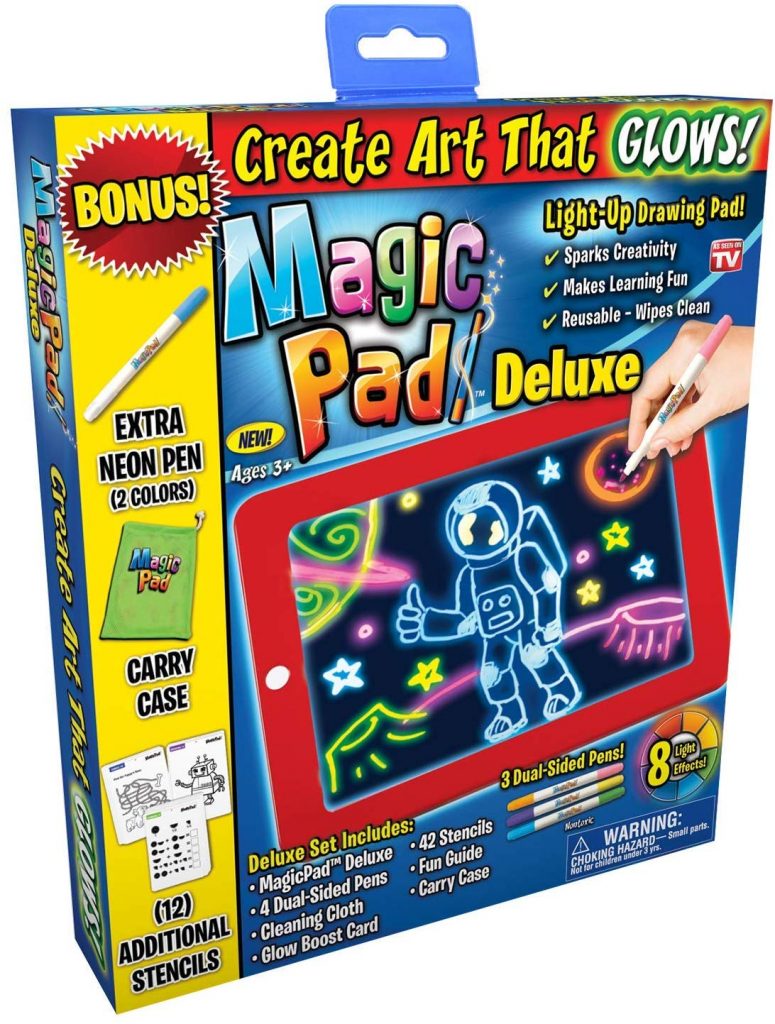 Pros
Fantastic guide included
Long lasting LED lights
No mess is made!
Cons
Border options only available in red or blue
Only the specific neon pens included can be used on the drawing pad
Further Details Regarding the Product and Its Manufacturer
After reading through our review of the Majic Pad As Seen on TV product, you will have been able to learn more about the different features, benefits, and downsides. If you were interested to discover more about the brand, you'll want to check out this section.
You can also discover more details about some common questions that people have, as well as useful info on how to use the light up pad. As a result, you can feel more confident about choosing it for your child.
Official Commercial
Unboxing Video
Other Related Products from The Company
Product FAQ
What is a Light Up Tracing Pad?
This drawing pad has a special illumination screen and LED lights. Kids can use the stencils and neon pens to trace designs onto the screen and implement different colors.
They can then press the button to make the colors light up. A tracing pad like this can then be wiped clean for children to start fresh.
Where to Buy Magic Pad?
You can find the light up doodle pad on the company's buymagicpad.com website. They almost always have some awesome special offers available, so, it may be worth checking out.
Where to Find Magic Pad Replacement Markers?
If the markers that your child has used have stopped working properly, you may need to contact the seller to see if they're able to send out replacements.
What Age is My MagicPad For?
The age recommendation for the light up doodle pad is 3 years old and over. Therefore, it can be a awesome toy for toddlers, and older children to have a blast with.
You can use the drawing tablet to encourage them to be more imaginative and introduce more educational aspects as your child grows older.
How Do You Use the MagicPad?
The light up drawing board is pretty simple to use. It runs on 3 AAA batteries which may need to be replaced often, depending on how much your children use the tablet.
There's an instructional manual included which takes you through the steps to turning the drawing tablet on.
Once it's on properly, you can let your child have fun using the neon markers to begin getting creative with drawings or writing things down. The markers are double sided, which means kids can use either end to draw with different colors.
This is great for saving space on having more markers. Instead, children can use 2 colors with one marker.
Kids can then use one of the 8 effects to alter their drawings. This can make the colors simply illuminate, flash, become scrambled, and more.
After kids have had fun with one of their designs, they can wipe it clean to start fresh.
What Colors are the Neon Markers Available in?
The markers come in yellow, purple, pink, orange, blue, and green. The markers have 2 sides with a different color on each side.
Do the LED Lights Last for a Long Time?
The LED lights have a life span of around 10,000 hours. Therefore, kids have plenty of time to spend using the doodle pad to be creative before there are any signs of wear.
What's the Best Way to Wipe the Board Clean?
You can simply use a clean cloth to wipe the board down. It's also best for it to be completely dry.
Are Other Markers Compatible with the Sketch Pad?
It's not recommended to try using other types of markers with this drawing board. Not all of them will work and it can damage the screen. Therefore, it's best to stick with the ones provided by brand themselves.
What Material is the Screen Made Out Of?
High quality plastic materials have been used to construct the screen. So, you can expect it to remain durable for a long time.
Customer Service
The company's customer service team is friendly and welcome customers to get in contact about any questions they may have.
You can call them on 800-203-1445. Alternatively, you can send them an email at magicpad@rehelpdesk.com.
You're also able to keep track of your order once you've made a purchase. All you need to do is enter your details on their website and you'll be able to learn more about where your delivery is in transit and when you can expect it to arrive.
Shipping
When you've placed an order and it has been confirmed, the item will be shipped and mailed by Fed Ex Smart Post. It may take up to 30 days for the delivery to arrive.
Returns
Customers have been liking how there's a 60-day money back guarantee available. This is great for providing you with enough time to see how much your kids like using the illuminating pad.
As long as it's within the 60 days, you can return the tracing pad by using USPS. You'll need an authorization number for the returns which can be found by calling the customer service team.
When sending the package for return, you should include information surrounding your email address, full name, phone number, and home address.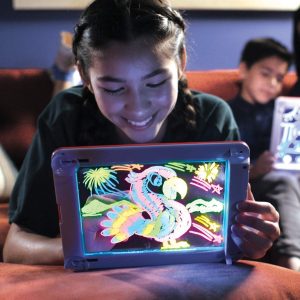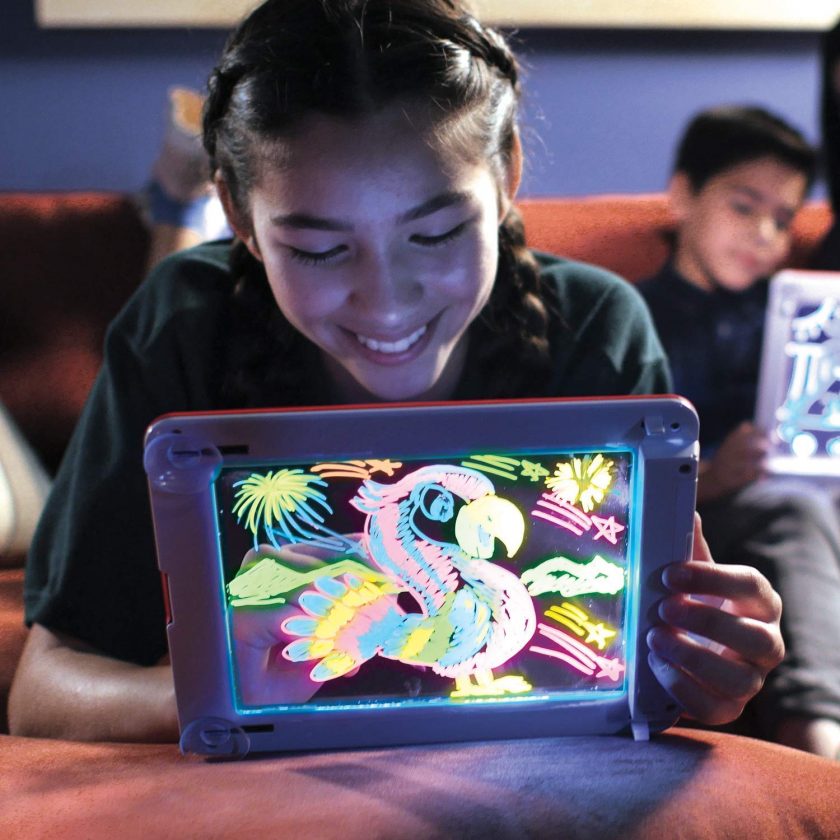 Final Thoughts on Magic Drawing Pad
So, that brings our review of the Ontel Magic Pad to an end. This drawing tablet inspires children to be highly imaginative to stimulate their creative thinking processes.
Magic Pad reviews from parents have shown that you can use it as a more interactive and exciting way to educate your children on various topics. Not to mention, it can be used as a night light and put up on display around your home.
Hopefully, the information found in this review has helped you to discover more about this sketch pad and why it's becoming so popular among kids. You can now make a more informed decision about whether to buy MagicPad for your children.