If you've seen the TrumpyBear commercial and are wondering if it's a real thing then you'll want to check out our review right here where we cover all the details and answers all of your questions regarding this product.
This stuffed bear first emerged in 2017 and it was ridiculed with a lot of people thinking that it was a joke, wasn't even real and wouldn't last. However, it's now back, stronger than ever and with a design that people have been finding comical and fun.
We've included more details about this teddy bear is so that you can have more clarity regarding it if you're considering it. Whether you're a fan of the President and want to proudly display it or against his political views and want to do a few little pranks with it it's sure to make a good gag gift for someone in you're life or be a fun stuffed animal for your kiddo.
After your review of the product you can find more information about where it's made, manufactured and the company behind it!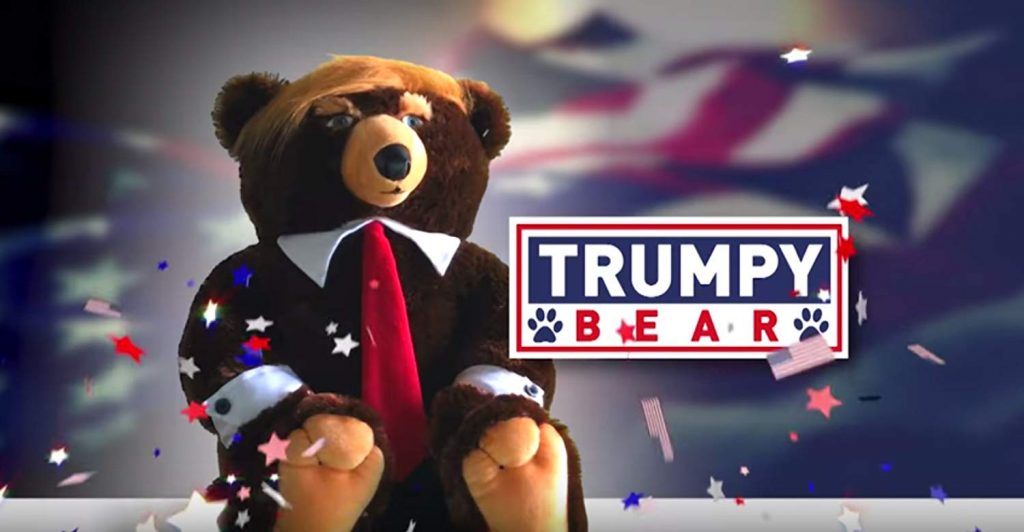 Our Review of the Trump Bear 2020
TrumpyBear is a stuffed animal that has been filled with soft plush materials. It's available in one size, which is 22″ tall and it comes with an optional cape / blanket that has been designed to look like the American flag.
People can use this blanket to put over the teddy as it's 28 x 30″. There's a zipper at the back of it that you can use to keep the blanket stored. this also keeps the blanket attached to the toy securely.
They've designed the the Trump bear with a red tie, shirt cuffs, and a collar. Not to mention, they've added the classic Donald comb over hair on top of the teddy bear too.
In addition to this, the it even comes with a Certificate of Authenticity. You can place this certificate up somewhere safe or keep it near where you display the bear.
On the manufacturer site, they mention that they only keep a limited stock of these stuffed teddies. Therefore, it's common for orders to take a while so when ordering you may have to wait until they're restocked.
Some people have mentioned how they were expecting the paws on the teddy to be larger. Others were hoping that the blanket would be larger as well.
Buyers Guide
Now that you know what this product is all about, you may be interested in learning more about the it and the official site where it's sold.
If so, have a read through the Info & FAQ sections below.
Placing An Order
When placing an order via the the official website, you're able to purchase it either in one payment or two. If you chose the 2 payment option, you're charged half price with the other half to pay at a later date.
Delivery & Returns
After placing an order, there's a shipping fee of $6.95. If you wanted to have expedited shipping, the cos is $10. People typically receive their deliveries about 2 weeks after they've received a confirmation email. Expedited orders are delivered on Tuesdays and Thursdays.
Once your order has been confirmed and it arrives, you're provided with a money back guarantee that lasts for 30 days. Within these 30 days, you can return the product for a full refund. The refund only includes the price of the item and not the shipping fees.
Currently, they don't ship orders to locations that are outside of the U.S.
They also don't accept the return if the product has been damaged in ways that they deem intentional.
How To Contact the Company That Sells TrumpyBear?
If you are wanting to contact the company, you can ring them on their customer service number, which is 800-536-5327. You'll be put through to their support team who can help you with any queries that you may have.
You can also choose to send them an email at service@sellontv.com. Their social media pages include Facebook and Instagram that you can use to send them a message to find out more information.
Where Can I Buy Trumpy Bear?
You can find the it on the manufacturers website. However, sometimes it's also available on Amazon and Walmart. All of the versions sold at various retailers have been made with the same designs. However if you see one with a different design that means it's a fake one made by a different company. There are lots of knockoffs out there so your best bet it to buy from the official website!
Where Is Trumpy Bear Made?
If you are wondering where the bear is manufactured, it's made in China, which is funny consider the President continues with the China tariff stuff. Despite being made in China they are imported and most orders are shipped from Dallas, Texas.
The teddy is made by Exceptional Products and they first got into the business long ago, around 1902 where they made a bear inspired by President Teddy Roosevelt. However, the updated version is based on President Donald Trump.
Is Trumpy Bear a Joke?
The product is not a joke but rather is a real thing, something you can verify by checking out the Trumpy Bear Snopes article. This can be useful because it provides you with the reassurance that the item is real before you go ahead and buy it.
People were confused about whether the Trumpbear was real because of how ridiculous the commercial was. However, looking on the Snopes page ensures that the item is real.
Is Trumpy Bear Real?
As stated previously and despite what some people believe this is definitely a real product confirmed by the Snopes website!
Official Youtube Video / Commercial / Trump Bear Ad
More Pictures of the Product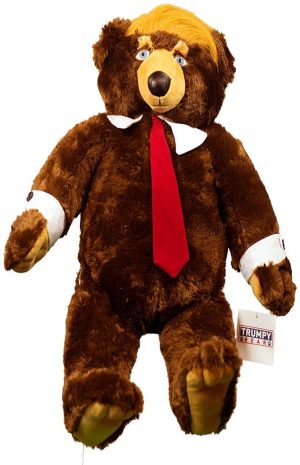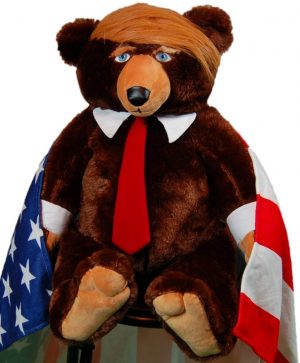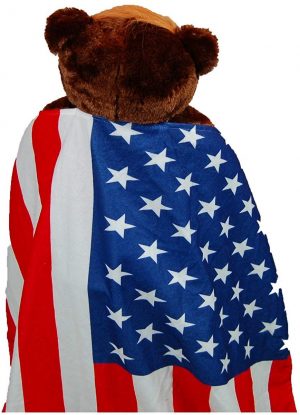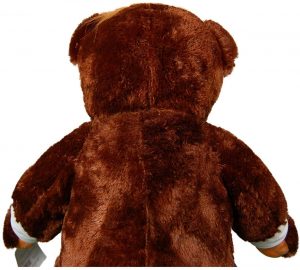 Final Thoughts on Trumpy the Bear
People have been using this teddy as a way to both support and ridicule our Commander and Chief. It just depends on the reasons as to why you're looking to this.
If you had seen people discussing this on Reddit or after seeing the ad and you were unsure what it was, we hope that we've provided you with some more insight into what this stuffed animal teddy is, the fact that it is indeed REAL, who makes it, as well as more details on where you can buy it.