Wooden toys are great for kids of all ages; however, babies, in particular, can benefit from them greatly. There is a wide range of wooden toys available which can make your buying decision more difficult. However, since there are so many options available there is certain to be one that suits your child's interest. To make that entire process easier for you, we've reviewed the top wooden toys available in this section.
Parents are often surprised by how durable wooden toys are. As a result, you can expect them to last your child for years. When it comes to wooden toys, it's crucial that they are safe for your child. You can be assured that all the wooden toys listed in our guides have passed safety standards as required. They are also awesome for helping kids to develop their cognitive and motor skills.
We've included toys of all shapes, sizes, and colors to help you find exactly what you're looking for.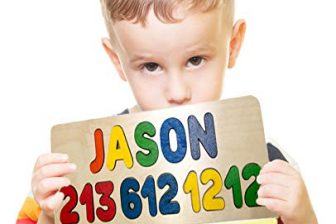 Kids name puzzle can be highly educational and fun for babies, toddlers, and slightly older kids to play with. Personalized name puzzles can be an even more thoughtful toy set…